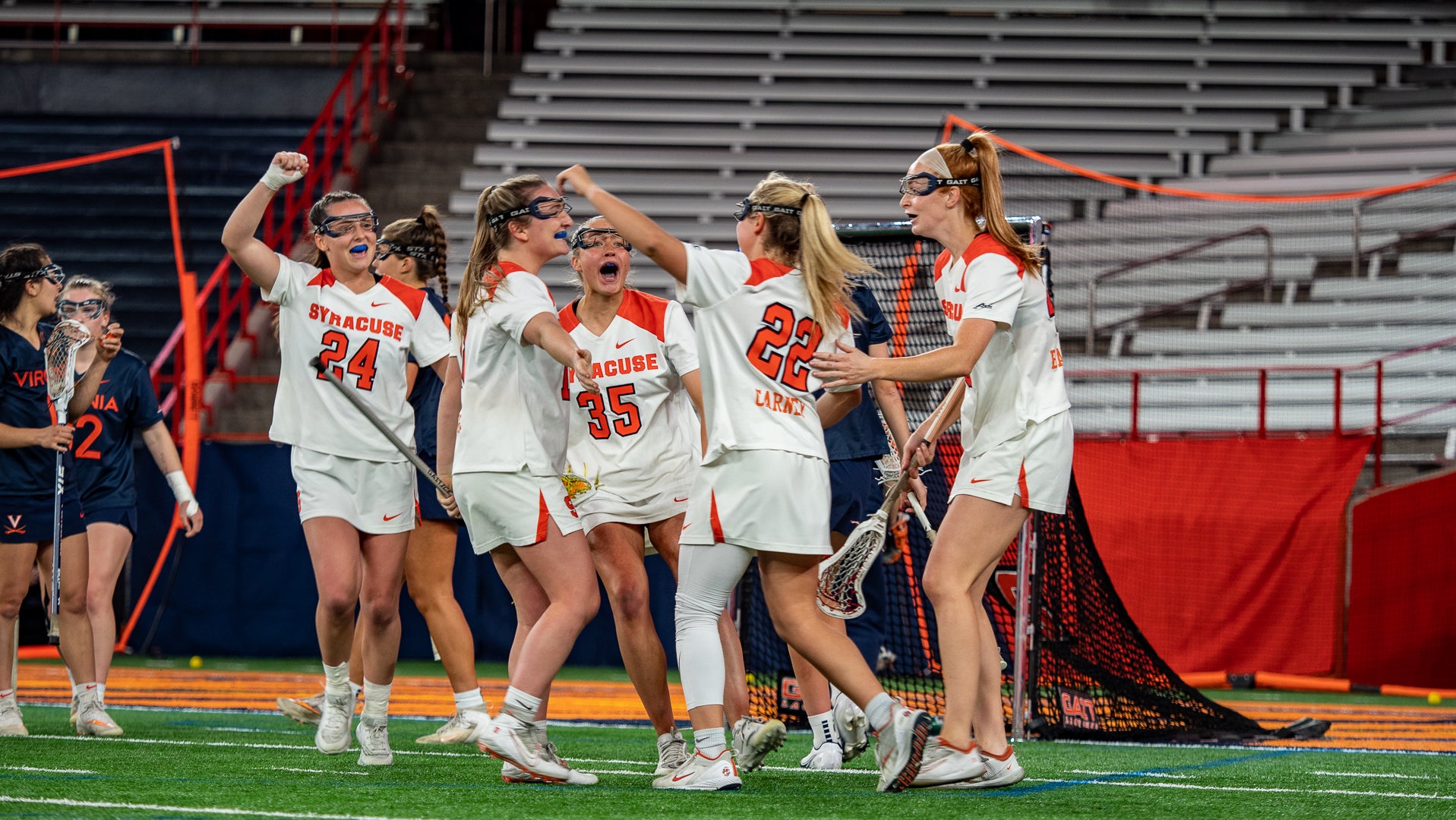 Fans line the railings of the JMA Dome after a dominant Syracuse victory. They hold their signs and posters calling out to their favorite players hoping to get a signature and a picture. The players put on a show on Senior Day filled with highlight reel goals, hustle plays, and creativity through the roof. These players are a part of the new wave of lacrosse. 
These are the women of Syracuse lacrosse. 
There are still traces of former coach Gary Gait's teachings in the DNA of this team, but now Head Coach Kayla Treanor has brought a new energy to the program she was a four time All-American for. From the run and gun mentality to their endless will to win, the players feed off Treanor's intensity on the sideline and the cheering of the fans to create something truly special. 
In the past few years, everywhere you look on Inside Lacrosse, USA Lax Magazine, and on social media women's lacrosse is exploding. The highlights are getting more amazing every year and the star players are shining bright in a new spotlight. There are many legendary women's players and teams that carved out the path for the current players, but there was limited exposure to the wider lacrosse audience and sports world until recently. 
The first time I watched a girls lacrosse game was my freshman year at Canisius College in 2014. What I remember from that first experience was being confused by the constant stopping and starting, the free position shots, and the completely different style of play. But seeing how well they moved the ball around with the tennis rackets for sticks was what blew me away. 
The rules and stick technology have changed quite a bit since that first game I saw and there are less stoppages and more opportunities to play fast. I watched from the sideline taking pictures a few feet away from the action of the Syracuse vs Virginia game this past weekend and it was like these girls were playing at warp speed. The flow of these games is great and the offensive chances seem to come about more naturally. The skills shine through with crisp passing, hard dodging, and on the run rockets to the top corners. 
Women's lacrosse is booming and teams are popping up all over the US and the world more than ever before. Where is this spike of interest coming from? It comes from the increased number of opportunities to play in college, the rise of women's pro and international lacrosse, the popularity of the women's game's star players like Charlotte North, more games being broadcast on ESPN and live stream websites, and the fact that lacrosse offers a freedom of expression, physicality, and community that you can't find in other women's sports. And when you watch a game these girls are just having a blast celebrating big plays and cheering on their teammates. 
More hold and more consistency in the stick they use is leading to shooting like we've never seen before. Even though pocket technology has improved dramatically, the girl's sticks and pockets still require incredible control and countless hours of practice. 
If you've played with a guy's stick your whole life and try to play catch with a girl's stick you know the feeling and question of "how the heck do they play with these?" We have been working on a Powell women's stick for months now and messing around with different girls' sticks has really shown me the level of skill it takes to sling the ball around like the best girls players do. 
The Syracuse sports community loves their teams and a great crowd came to cheer on the women's team in their Senior Day match up against Virginia. The crowd was not only filled with young girls, local lacrosse teams, and family and friends there to watch an exciting game, but there were fans of all ages and gender there to witness the #1 team in the country. 
This team is so exciting to watch. From the moment they run out for the announcement of the starters they are doing handshakes, dancing, and getting the crowd pumped up. They have a confidence and energy that is infectious. They also have the star power that makes them even more compelling to watch. 
It starts with their Coach Kayla Treanor who orchestrates this Orange squad that has Tewaaraton nominee Meaghan Tyrell, a sharpshooter in Meg Carney, an incredible playmaker and passer in Emma Ward, and a team that top to bottom are serious ballers. From the gritty draw controls of Olivia Adamson to the strong goalie play of Delaney Sweitzer, they are balanced all over the field.  Many members of this team were in the National Championship only two years ago in 2021 and are poised to make another run for a title. 
Their stick skills are so slick, their teamwork incredible, and they bring so much fun and energy to their celebrations. The ball movement is so quick and they have so much chemistry that you can see them reacting immediately to a move and already in the right spot for a quick stick. After every play good or bad they tap sticks to show their appreciation for each other. Even though they aren't wearing pads, there are big hits and checks throughout the game as they battle for ground balls and drive towards the front of the net. 
Free position shots are so different and the more I see them it reminds me of a pitcher and batter scenario or a shootout. It can be a one on one play, but the option for the shooter to use their teammates is there as well to fake the shot and quickly hit someone cutting on the backside. It's a unique part of the game that builds excitement in the crowd and then when a great goal is scored it hits like a crescendo. 
When Virginia scored a few goals to make the game close early, the Orange put their foot on the gas and seemed unstoppable in the 21-9 win. The game was played in front of a crowd of 2,414 fans, which ranks as the second-highest, single-game home attendance in program history. The crowd was loud and roared after every big play. 
So do yourself a favor and get out to a Syracuse women's game this season or catch one online to see the skill and excitement for yourself. This is lacrosse at its best. Fun, fast, and full of wonder.