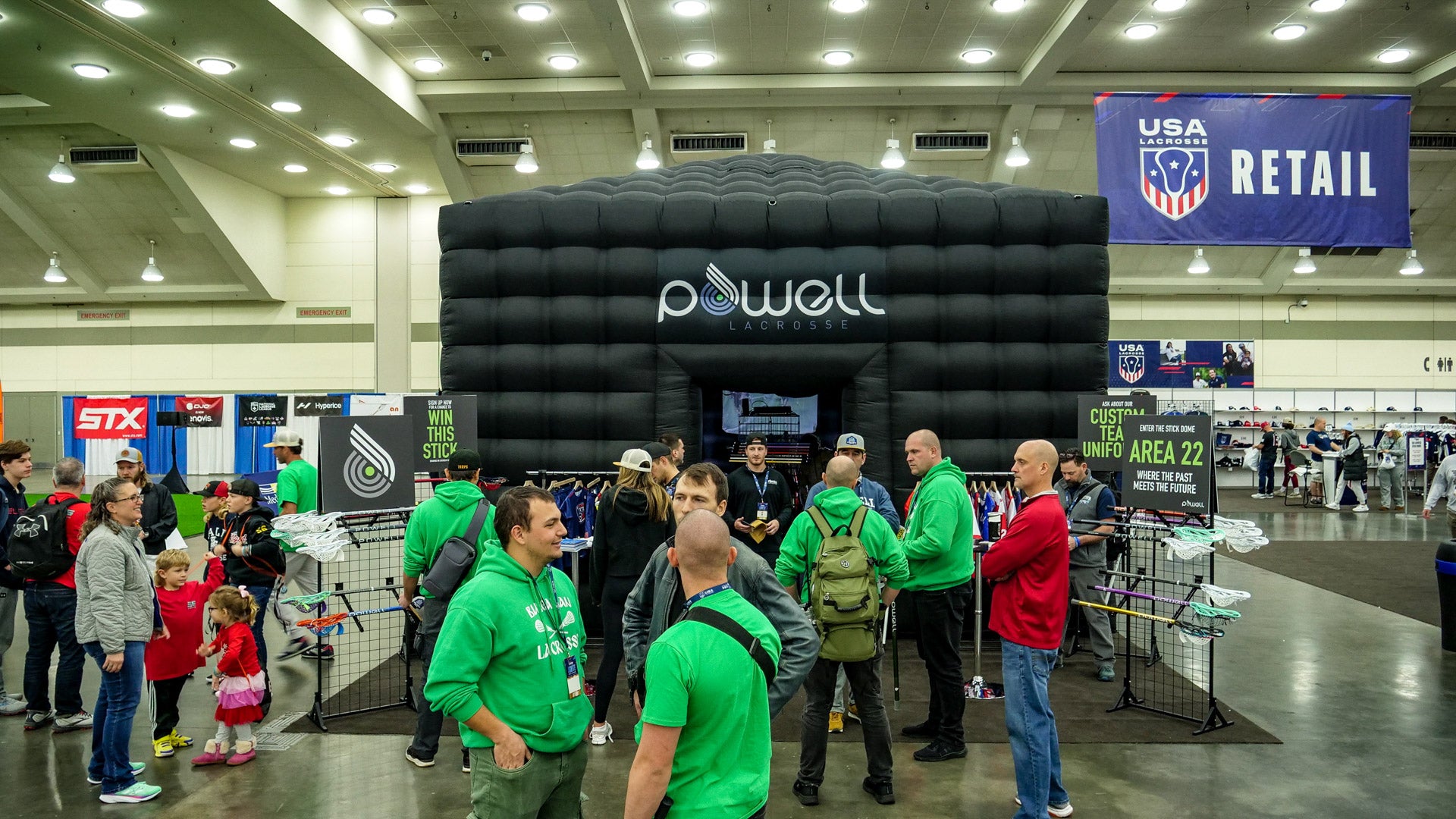 The USA Lacrosse Convention. Where the past meets the future. Where you can meet your heroes all in the same place. Where the lacrosse world journeys from distant lands to come together to celebrate, innovate, and shake hands with a smile. 
This was my first time going to LaxCon and it was exciting to be able to attend the event that I've followed along with for so many years. I used to devour the Inside Lacrosse and US Lacrosse magazines that featured it and scour every picture for a glimpse at new heads and gloves. It's a place where the lacrosse community comes together to learn, showcase what they've been working on for the past year, and to have a great time with friends. Now I could experience it first hand. 
This was a huge weekend in the history of Powell Lacrosse as the first time the company has attended LaxCon and presented itself alongside the big names in the industry. 
It was a big moment for a few thousand people to see our products and what the Powell brand is all about with huge potential for exposure. Most know the Powell brothers, but some may not have had the chance to hold and see a Powell stick up close. Months of planning and potential scenarios played out in our heads as we drove down to Baltimore. 
The inflatable dome was a purchase that really took our whole booth to another level. The first time we set it up in the office parking lot, we stood in awe as this monstrosity started to blow up in front of us and wondered how the heck it would even fit in our booth. After several white board drawings and brainstorm sessions the team came up with a setup that we thought would get the job done. We wouldn't really know until we unloaded all of our boxes and gear at the convention center. 
On Friday morning, Mike Powell plugged in the blower and the dome came to life in booth 3611. When you walked on to the convention floor, the first thing you saw was our giant Powell Lacrosse bounce house. Over and over people came up saying they just had to see what was inside. Mission accomplished. 
On the projector inside the dome we played a loop of our Powell Lacrosse Legends videos that showcase legendary players from the past few decades. Over the past two and a half years, it's been my honor to make 119 of these videos that are all 1 minute long. Most of them took me 1 day to make, but several took 2. About 150 days of my life were spent watching old lacrosse games and searching for highlights. When I get to meet some of these legends like Charlie Lockwood and Gary Gait and they say how much they enjoy the videos, it's a fulfilling moment and makes it all worth it. Like this is what I was meant to do. 
The dome was a gateway for people to enter the world of Powell Lacrosse. 
As people filed in, our team made sure to welcome them and see if they had any questions. Some brought their Powell sticks with them to the convention, which was great to see, and wanted to see our newest offerings. Others saw our team uniforms and wanted to learn how they could get their program outfitted. I loved sparking up these conversations and learning about where people were from, who they played for, and even finding out I had a connection with them from my high school coach. 
It was really something to see coaches, other companies, and fans coming up with bright eyes to meet Casey, Ryan, and Mike Powell. Telling stories of how they went to one of their camps a decade ago and learned so much. Asking if they remember an event that they worked at together. How they watched their highlights on repeat and how the Powell's made them fall in love with the game. 
All three brothers took the time to hear the stories, crack a few jokes, ask how their families are doing, and about their upcoming lacrosse seasons. You could tell how much it meant to the three of them to have their name displayed proudly for the lacrosse world to see. 
Saturday morning, Casey put on a demo about Speed Lacrosse and drills he has developed for our upcoming Powell instructional camps As he talked about playing in the backyard when they were growing up, he fired passes to Ryan and then invited his daughter Bella to join in. Casey talked through the drills bringing energy to every pass, Ryan shot on the net and ended with a celebration, and Mike positioned himself on the outside of the field with his Nikon F2 camera to take a picture. 
The bridge from the backyard to the present playing out in front of the audience. A long way from Carthage and a great illustration of who each brother is. 
The younger players there came up interested in the dome, but some might not have known exactly who the Powell brothers were. Charlotte North, the USA Women's National Team, and PLL stars like Michael Sowers, Jules Heningburg, and Nakeie Montgomery put on demos on the field right next to our booth with people lined up all the way around to get a glimpse. The PLL players and USA Women's team occupy the space that the Powell's once held in the lacrosse industry when they were playing. 
I was able to get into the upstairs offices for a bird's eye view of the convention thanks to Maggie Brooke and Matt Hamilton from the USA Lacrosse staff. Seeing so many different lacrosse companies, foundations, and professional leagues all in one place is exciting to know that the game is still growing so much. 
With one glance around the convention center you really can see the past meet the future. In the center row Oren Lyons, Alfie Jacques, and other stickmakers had their incredible collection of wooden sticks from each indigenous nation and styles that are centuries old. 30 feet away you can pick up carbon fiber molded elbow pads, latest see through plastic heads, and robots that can paint field lines. 
I found out quickly that you never know who you'll run into at LaxCon. As I was standing in front of our booth all of a sudden I saw one of my Canisius College teammates Colby Wehner and it turned out he and another teammate Cody Gould were both at the convention. I hadn't seen either of them since before the pandemic. I got to catch up with them and it felt like almost no time had passed at all since being in the locker room. Then I ran into another crew of friends from Buffalo and talked Bills football hoping for a big win that Sunday. It was like being in a crowded bar in your hometown and bumping into old friends. 
It isn't often that such a big part of our Powell Lacrosse team is in one place. We have two sales reps that live in Tampa, Casey is also in Florida or traveling around, and the rest of our team is in the Syracuse area. Talking through ideas, working to set up the booth, and laughing together in person rather than on a conference call was huge for our growth as a company. After we packed everything up, we celebrated a great showing at Powell Lacrosse's first LaxCon with refreshments and games of pool into the wee hours of the morning. 
Powell Lacrosse came to LaxCon to show that we're ready to take a big step forward and make our mark in the lacrosse industry. If you liked what you saw, just know that this is only the beginning.