Powell Game of the Week: CBA Syracuse vs Homer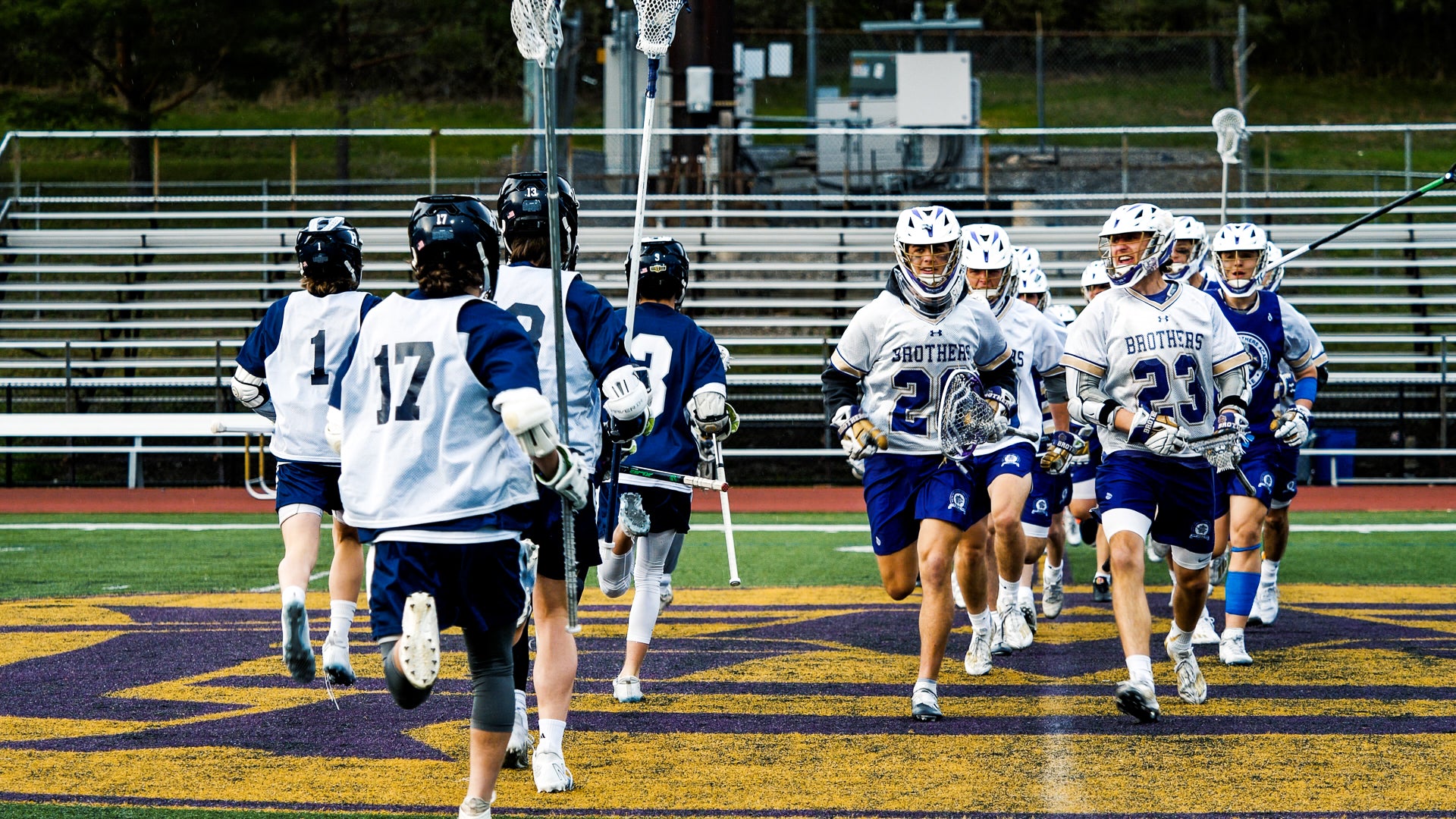 April lacrosse is like a box of chocolates. You never know what you're going to get. 
I say this in reference to the results of games that will be played, but mostly the weather. Last night I watched Homer High School take on the Christian Brothers Academy for a Tuesday night showdown at Alibrandi Stadium. It was a beautiful April evening with wind, rain, and even some snow that matched the gritty Upstate game that was going to be played. 
I work with Ryan Powell everyday in the Powell Lacrosse office so it was cool to see him in a different environment and role as Head Coach of the CBA team. He gave a pregame speech about how lucky the players were to have the opportunity to play lacrosse at CBA and have the chance to go out on the field, have fun and work hard. The players came out of their locker room jacked up and ready to go. 
Homer rolled in ready to put up a fight in a public school vs private school battle. The Trojans had played some close games so far this season and were looking to get a bounce back win just like CBA was. 
CBA came out fired up and set the tone early. #9 Andrew Kohlbrenner came flying down the alley to bury the first goal of the game. Then #1 Jack Wichmann caught a pass off of a broken play in transition to make it 2-0.
The goal of the game happened in the 1st Quarter when #23 Joey Papa split left to right up top, freed his hands, and blasted an absolute missile to the top right corner. I had the perfect view of it with my camera and was pumped to get a great clip of it. 
CBA seemed like they were going to run away with the game, but I had a feeling that Homer could make it interesting. With some fortuitous bounces in transition and opportunities on the man-up, the Torjans closed the gap to make it a closer game. #3 Reid Partis is a slick dodger and finisher who scored their first goal. The Trojans used well timed cuts and ball movement to create some good offense. #4 Mitchell Riter and #6 Daniel Stiles led the charge for Homer with 2 goals a piece. #10 Hunter Riehlman created several chances for Homer with good feeds and inside rolls right on the crease. 
There were some great faceoff and ground ball battles throughout the game as both teams were swarming all over to get possession. #12 Johnny Massaro was strong at the faceoff X for CBA going against Homer's two different faceoff men, despite me not showing any of his faceoff wins in the highlight video. Sorry Johnny, I'm writing this after I already edited it. 
Kohlbrenner and Papa lead the way for the Brothers on offense. Both are dynamic dodgers and playmakers with slippery change of direction and good shooting ability. Papa does most of his damage coming from X while Kohlbrenner likes to dodge from the wing. They also work together well in the 2 man game. Papa finished with 3 goals and 3 assists while Kohlbrenner couldn't be stopped with 6 goals and 1 assist. CBA also had some contributions #6 from Jack Ludington and another goal from Wichmann to round out the scoring. 
Homer netminder #33 Benjamin Bradshaw faced down a lot of shots all game and made some really good saves to keep his team within striking distance. However, at least two goals barely snuck by him where he made the initial save, but the ball rolled in. He'll surely clean that up and continue to be a great backstop for Homer as they go along the season. 
The excellent play of the Brothers defense and goalie #20 Matt Craybas were what shut the door on any chances for a big Homer comeback. #7 Ty Green and #15 Phil Tangredi had multiple CTs and ground balls. Craybas is hard to beat when he is in the zone. 
CBA went on to win the game 13-8. 
CBA is back on track with their second win of the season in what was definitely a confidence booster. They have their biggest test of the season so far this Saturday as Baldwinsville will come to Alibrandi field. Homer will face New Hartford this Friday. Good luck to both teams on the rest of their seasons! 
The next Powell Game of the Week is TBD, but I'm hoping to catch another great Upstate matchup very soon.