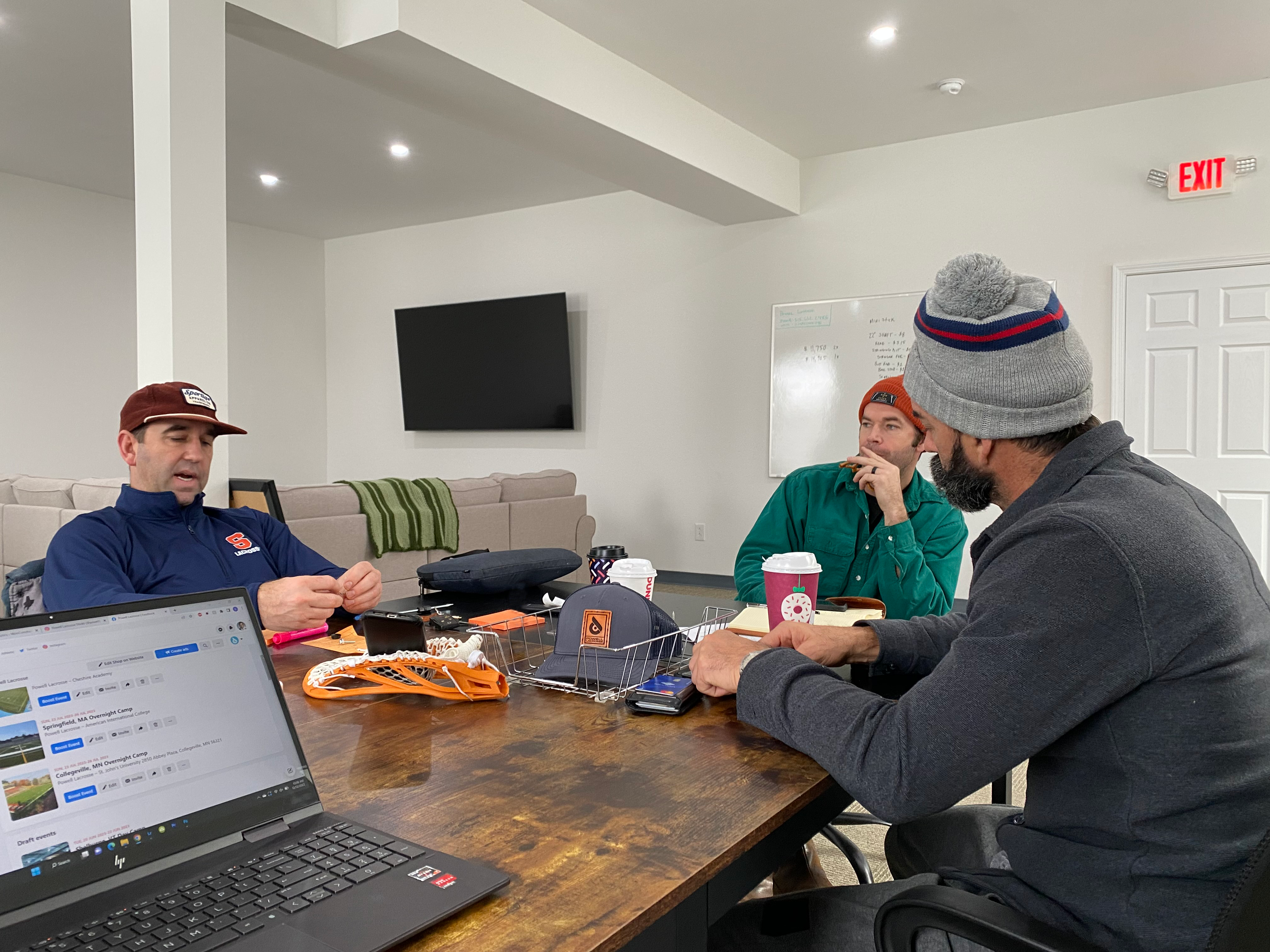 You may have noticed that things have been looking and feeling a bit different around here these days. We figured it'd be a good time to tell you about all the fun we're having, the growth we've been experiencing and some of our plans for the future. 
Before we do that though we have to say thank you. All of the support we've received over the last 7 years is absolutely incredible to look back on. We knew that when we started Powell Lacrosse in 2015 we wanted to be a brand that really supported the positive culture of the game, protected its foundation and pushed it forward. We had no idea all of the lifelong friendships and connections that would come out of this venture. 
To all of our customers, THANK YOU! Without you there would be no us. We're still operating on our original direct to consumer business model. This approach gives us the autonomy we feel is necessary to create the best products at the best prices. It's in that freedom that we really flourish as a brand because it makes it very easy to do the right thing, which is always the best thing. 


Having a direct line to the consumer gives us the ability to control the user experience and allows us to get to know our customers on a personal level. We are "people" people and relationships really matter to us. We feel like the culture and community is one of the main reasons lacrosse is such a unique and special game. We've always wanted to feel like the local lacrosse shop and be a real resource for players, fans and enthusiasts from all over the world.


On Valentine's Day we launched this website to support our new vision. We wanted this new look to reflect the fun we're having building sticks and showcase some of these special builds coming out of our custom shop.  BIG imagery, bright colors and positive content pieces.


We've also introduced some brand new categories where we feature some of our current favorite stick builds and their builders. One of those categories is our Select Six where we introduce unique color ways and configurations. These complete sticks operate on a rotator and will continually be updated moving forward. The other new category is the Builder's Boutique where we will feature the work of some of the world's finest sticks built by the greatest makers. 
Aside from the new look we also launched a new program where we offer FREE SHIPPING ON ALL ORDERS OVER $122. We know what it's like to purchase things online and the frustration that comes with high shipping rates these days. This threshold allows our customers that are purchasing big orders, like one of our complete sticks, to save money on shipping. 


To all of our teams that we've outfitted over the years with Powell uniforms and spirit wear, THANK YOU! It's so fun to watch a full team play the game we love while wearing our uniforms.  It's a childhood dream come true to design lacrosse products and watching them in action is as good as it gets. But what makes this area of our business so fun is collaboration. Back to relationships, we get to work directly with program directors, players, coaches and organizers to bring their ideas to life and get their feedback. Many of the people we've worked with have become our closest friends!

So let's talk about some of the fun we've been having lately. We will start with our big "move." 

In October of last year, we packed up our humble flagship office space in Manlius, NY and moved into a large renovated industrial location along the Erie Canal in the small town of Chittenango. We're very proud of our beginnings and there are certainly things we miss about being in the center of Manlius, however, what we are loving in our new location is the SPACE! 

We selected this particular location because of its size to support our growth. but there just so happens to be a lacrosse field and skate park connected to it! We are in the very beginning stages of renovation here and have some really exciting news coming soon related to our plans for this location. 
Our new "eyecon" is another evolution and a design move that we are really happy about. The new eyecon gives a bullseye look that speaks to our commitment to stringing sticks with superior out-of-the-box accuracy.   
We also use the three "p's" as a design ethos that everything we work on here must pass through before it enters the market. Every idea starts in the center and works its way outward. Below is an excerpt from our 2023 Reimagined Brand Plan that explains this further… 
Every business decision, product design and event must pass through this central "P." We will ask ourselves; does this feel right? Are we doing it for the right reasons? Does this product align with our beliefs? Does this idea jeopardize our authenticity? Is it clean? 

This concept even extends to the people within our organization and our working relationships. We do not associate/align ourselves with people that follow a different moral compass. We do not bring attitudes to the workplace that could potentially contaminate or pollute our waters.



Every business decision, product design and event must pass through the middle "P." We will ask ourselves; why are we doing this? Does this fill a void or create a service that could make someone's life better? Are we supporting our community? Is this a step in the right direction? Does this better the brand and push us towards our goals or is it a distraction? A major component of this category will be preparation and planning. From design to execution we must march forward with a purpose.



Every business decision, product design and event must pass through the outer "P." Perfection is worth aiming for. We will ask ourselves; can we do it better? Is this less than perfect? Do we REALLY believe in it? Are we settling? Are we being innovative or just following? Does this make sense across the board? 

From simple font choices to full on stick design - EVERY LITTLE THING MATTERS. We need to celebrate the little details that make a big difference. Quality control is critical to growth. All of us need to stand by what we do with pride.

We have so much excitement and our energy is at an all time high. We are thrilled to be in our new space working on lacrosse products that have never before been seen. Thank you for all of your support, let's grow together!