Powell Game of the Week: Marcellus vs Cazenovia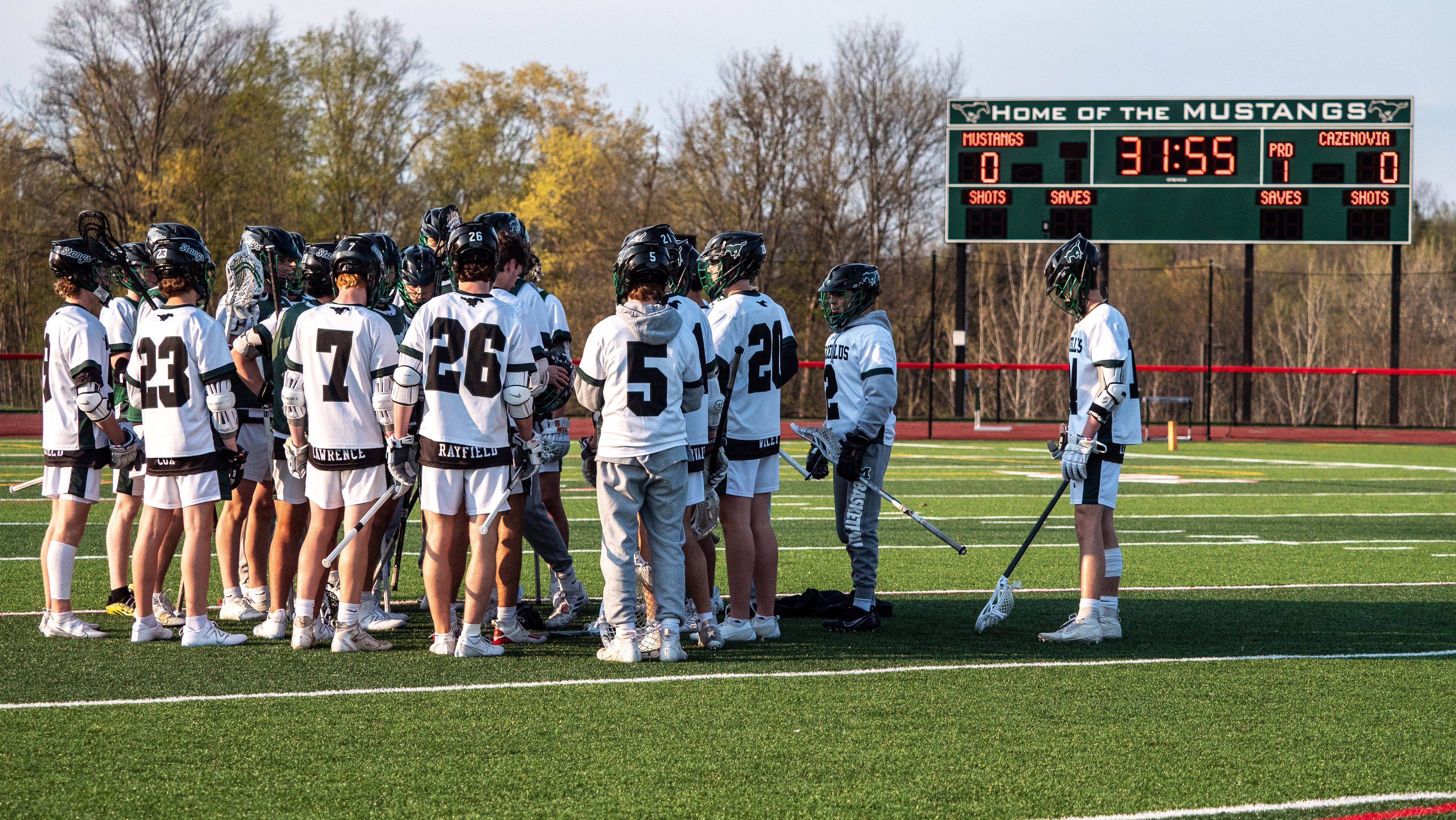 Tuesday night lacrosse in the Upstate New York area was in full force last night as I made my way to Marcellus to watch the Cazenovia Lakers face the undefeated Marcellus Mustangs. 
I knew I had to get a look at the Marcellus squad that has been the talk of the town lately for Syracuse high school lacrosse. They were coming in 9-0 and definitely had some swagger as they were getting warmed up. 
Cazenovia has merged with Chittenango High School for this season to allow players from Chittenango to suit up with the Laker squad. Both schools had low numbers for their respective programs. They have had an up and down season, but are starting to come together with strong wins against teams like Westhill and close games with Lafayette and CNS. 
The sun was setting on the hillsides surrounding Marcellus' scenic stadium as the teams got ready to battle. 
Marcellus struck first as they picked off a pass on the clear and #26 Adam Rayfield scored from midfield on an empty net. With some crisp ball movement #14 Doryn LeClair slung a rocket into the top left corner to quickly make it 2-0. 
Turnovers would limit Cazenovia's scoring chances as they struggled early on to connect on offense until #11 Brendon Barnard fired home a lefty low to low shot. They were winning faceoffs early on and #4 Tucker Ives made some big saves, but their struggles would continue for most of the first half. 
You can see why Marcellus has had so much success this season with their strong defense and their great chemistry on offense. The Rayfield brothers, Adam and Nick, are excellent playmakers and the rest of the offense feeds off of their energy. Chris Doshna was very active inside as he timed his cuts perfectly to fire in 2 goals. Doryn LeClair was the QB and shared the ball well as he finished with 4 assists. 
Even though it was 9-1 at halftime, it felt like Caz was getting opportunities to get into the game. 
The Lakers would finally start finding their groove as Barnard came alive with 4 goals in the second half. He fired two lefty time and room lasers, a smooth behind the back down the lefty alley, and a low righty shot off a roll back. #26 Forrest Ives was Mr. Everything all over the field for Caz as he played LSM, Defense, took faceoffs, and subbed off to get a short stick and then play offense. He would score on a nice jump shot coming around the net. 
The second half saw a lot of penalties and man up chances for both teams. There was definitely frustration on both sides as the game went along with big slashes and hacks. 
The few times that Caz seemed to get the momentum, the Mustangs would answer immediately with a goal to keep their comfortable lead. DB Falge scored on the man up for Caz to give the Lakers 7 goals, but that would be their last. 
It was little too late for the Lakers, but they showed that they would not go down without a fight. The Marcellus defense smothered Barnard and Ives at the end as they did everything they could to mount a comeback. #17 Damyn LeClair played solid one on one D and #16 Quenton Polkowski was strong in between the pipes. 
Marcellus won the game 12-7 to move to 10-0 on the season. It will be interesting to see if they can finish the regular season unbeaten and if they can keep it rolling in the playoffs for a state title run. Cazenovia will have a chance to bounce back with a game against Central Square this Saturday. 
Some of the best lacrosse of the season is right around the corner!
Watch the full highlights below: