Powell Game of the Week: West Genesee vs Jamesville-Dewitt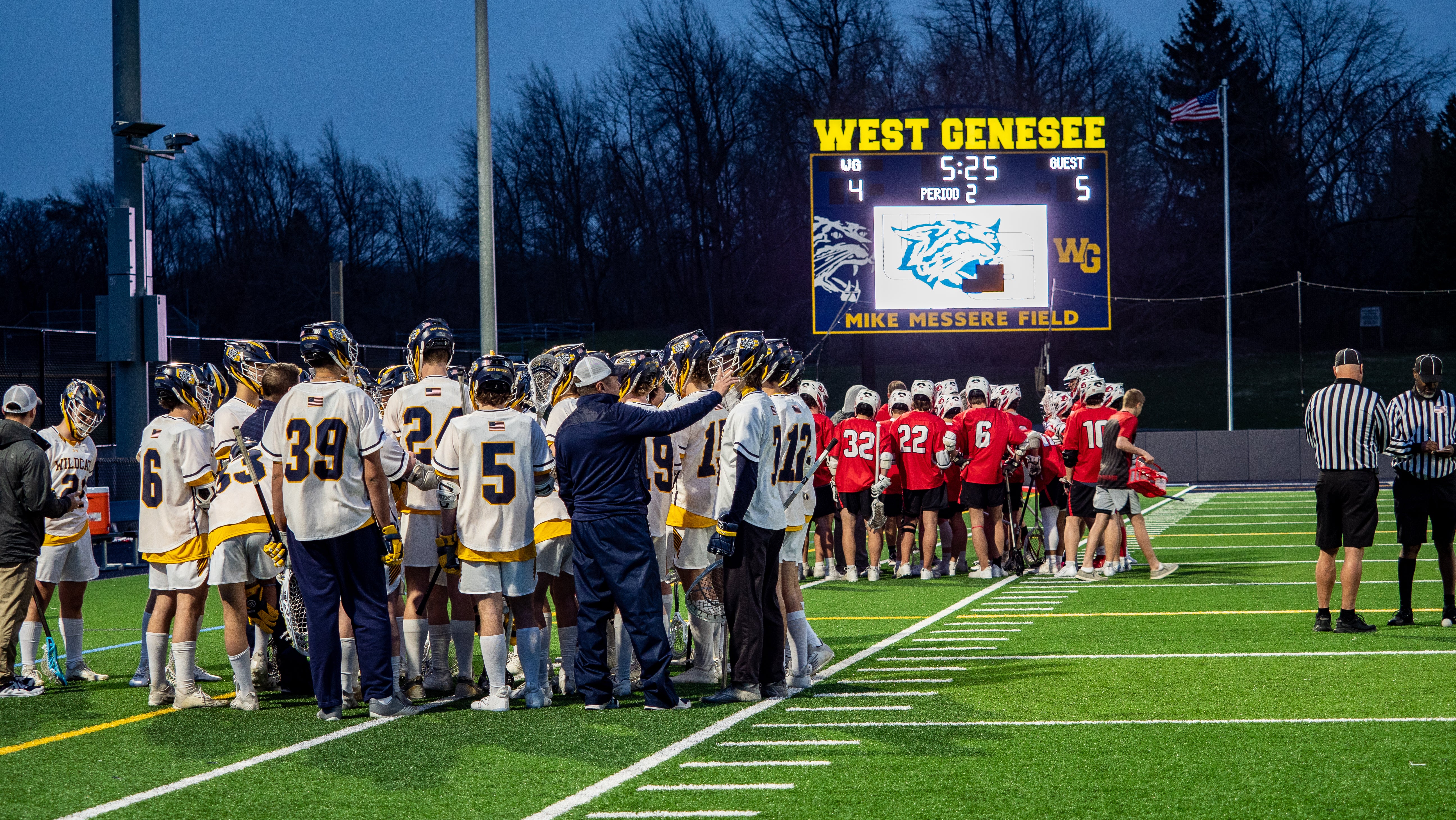 Two of Upstate's most historic programs met last night in Camillus, NY as the Jamesville-Dewitt Red Rams traveled to face the West Genesee Wildcats for an early season clash. 
It was a warm but cloudy evening with a breeze that cooled things off just enough to need a jacket. Perfect lacrosse weather. 
I was really excited to cover this game because it was my first time going to West Genesee High School. When I was first learning about lacrosse back in Michigan, West Genesee always came up and in the lacrosse magazines there were always pictures and stories about the program. They always showcased the knee high socks and the tradition of excellence under Coach Messere. And everyone who has ever played field lacrosse has probably done some form of the West Genny drill. I'd finally be at the place where so many lacrosse legends began their journeys. 
Getting to watch JD play in person has also been on my list since I moved to Syracuse. I watched the great documentary on YouTube of their 2011 State Championship run many times. I also played with a few JD alums at Canisius College: Tim and Jeff Edwards, Mike Mulvihill, and Ryan Mckee. They were always very proud of being from JD and played a great style of lacrosse. 
West Genny was coming off two losses to Rochester area teams and this was JD's first official game of the season. Both teams came out juiced up and ready to go in warm ups. The stands were full with fans who were ready for a good Tuesday night battle at Mike Messere Field. 
The starters lined up and it was time for another edition of this Upstate rivalry. 
After some back and forth play, the Wildcats struck first on a goal from #3 Ryan Considine who was able to get off a shot inside. #23 Sam Brazell for JD answered right away with some shake and bake at X that let him get topside for a righty finish. Then #18 Liam Burns found #1 Nolan Belloti on a great cut to make it 2-1. 
JD's #10 Gannon Kessler joined the party with two straight goals. One was a step down and the other was similar to Brazell's with an ankle breaking dodge at X and a smooth finish coming around the net. 
Both teams traded goals for the rest of the first half with #23 Jack Mellen scoring on the run for West Genny, #5 Mario Streiff and #11 Andrew Laubenstein hitting their mark for the Rams, #11 John Giannuzzi Jr. scoring a rocket for the Wildcats, and Considine getting a last minute goal off a ground ball scrum for Genny to end the half. 
Brazell also scored a ridiculous goal where with three defenders all over him he somehow got a one handed twister off and hit the bottom corner. It was definitely the goal of the game. 
A great battle at the faceoff X between #13 Nick Miller for JD and #10 Jonah Vormwald for West Genesee gave each team plenty of chances on offense, but some strong defensive stands made the first half a grudge match. 
JD needed to shake off a bit of first game jitters, but once they found their groove toward the end of the first half and in the 3rd Quarter they started to control the game. JD's offensive firepower was too much for the West Genny defense as Gannon Kessler and Sam Brazell put on a show. #22 Graham Kesselring scored some nice goals on inside finishes. 
There was plenty of chippy play and West Genny found themselves man down quite a bit. JD was deadly on the man up and really pulled away with multiple EMO goals. The Wildcats had their man up chances too, but weren't able to capitalize as efficiently. 
The biggest difference in the game was without a doubt JD goalie Ian McIntyre. There were multiple times he would make an initial save and make another point blank stop off a rebound. He did this throughout the game and stopped any momentum West Genny was getting. After every big save he was getting the bench fired up and yelling "Let's go!" McIntyre would finish with 20 saves. 
Jamesville-Dewitt would go on to win 16-7 over West Genesee. It's still very early in the season for both teams so we will see if either of them will be making a run to a state title this May. 
Let us know which games in the Upstate area we should check out next week! 
Some other notes:
-I think West Genny is probably the only team in the country that can still pull off the knee high socks. It would look weird on anyone else. 
-The JV teams for each school played before the Varsity game and it's always cool to see those JV players stick around to watch the Varsity teams hoping that will be them next year. 
-JD's offense is going to rack up a lot of goals this spring with Kessler and Brazell leading the charge
-#4 Teshale Kelly for West Genesee was impressive as a short stick d-mid as he stood up dodgers and caused turnovers. He was flying down the field all game on the clear. 
Watch the highlights from West Genesee vs Jamesville-Dewitt below: