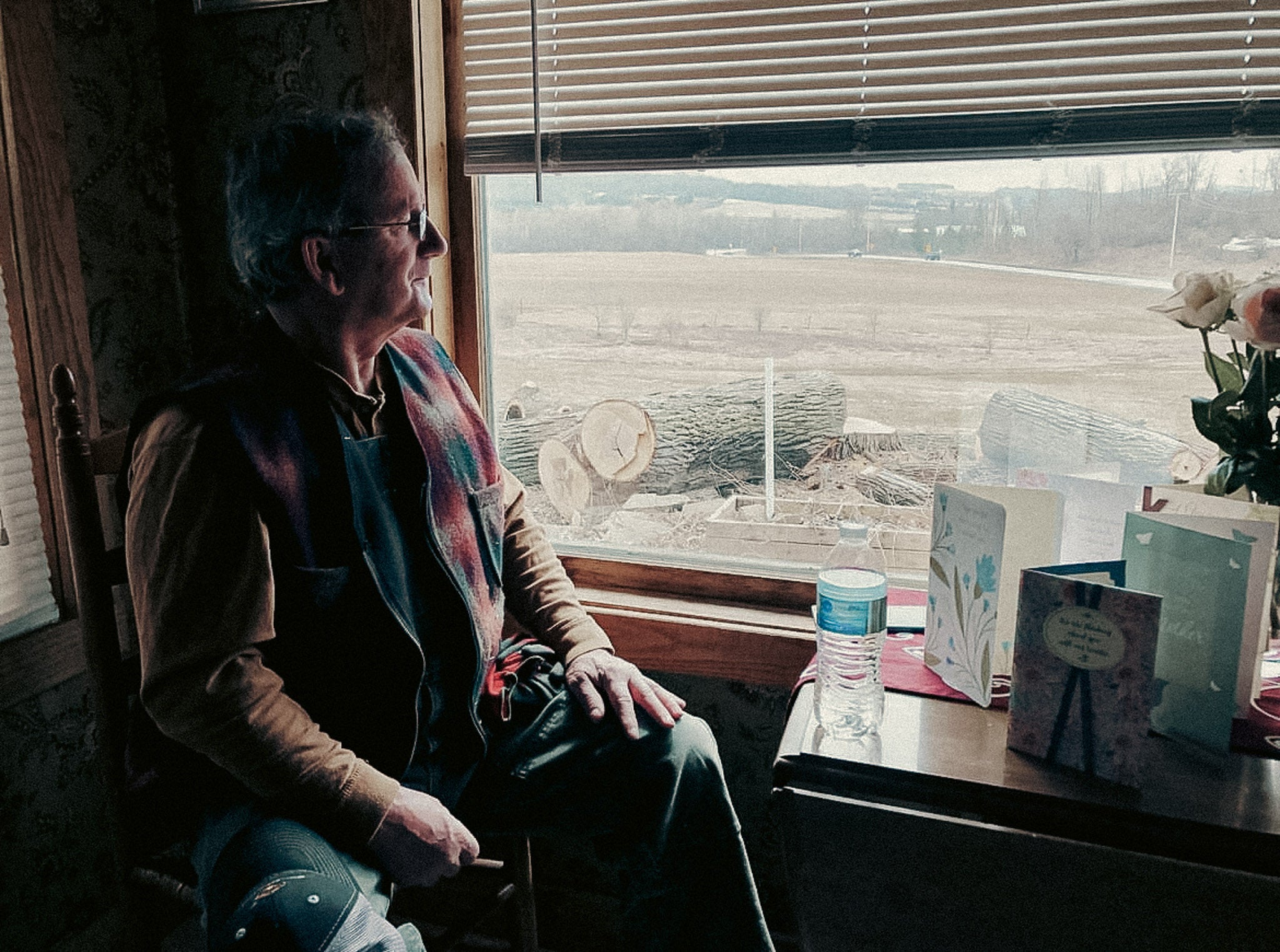 It was a fall day in the late 80's when my Dad pulled his orange International pickup truck into the parking lot of the Salmon Run Mall in Watertown, New York. My brothers Casey and Ryan sat beside him, sharing the bench seat with gigantic smiles and brimming with excitement. They came to the mall on this particular day with a mission in mind - one that was longed for and often dreamed about. The three of them pushed through the glass doors of Klein's Sporting Goods and walked towards a tiny wall display that was positioned between the tennis rackets and the volleyballs. My Dad brought his boys there to buy them their very first lacrosse sticks.


There are certain moments in every person's life that alters their path and ultimately changes their trajectory. This simple moment in time, this trip to the mall, would end up changing everything for us.


Let me first start by telling you about our Dad. I'm a little biased, but I can tell you with confidence that he is my hero and the greatest man I've ever known. Once you get to know the man that raised us you will better understand what this brand stands for and who we are.


Like the majority of people that lived in our neck of the woods, and just like his Father before him, he worked his entire life as a papermaker. From the pulp room to the lumber yard and everywhere in between - our Dad was brought up with the mill mentality. A lifestyle that's built on the idea that you wake up and work hard, day in and day out, to provide for your family. And that's exactly what he did.  


Every morning he'd pull out of our driveway at 5:30am, clean and showered, only to return covered in sawdust, grease and grit somewhere around dinner time. He did it for us and we felt it. In those days, especially with a family his size, money was tight. So when Casey and Ryan started to show interest in lacrosse things got interesting.


Our Dad is an outdoorsman, he's happiest when he's alone in the woods - one of the many things that he and I have in common. He played a couple sports in high school, but most of his time as a kid was spent outside trapping, hunting and fishing. Although some people consider those three activities outdoor "sports," I don't think my Dad would agree especially back then because they were necessities. He trapped because he could sell the hide. He hunted and fished so he could save money on groceries for the family. 


We didn't ask for much because our parents gave us everything we needed in our small town. They gave us freedom and bicycles! We were free to explore, free to try things, free to be ourselves - as long as we led with honesty, looked out for one another and treated EVERYONE with respect. When you're raised that way your imagination runs wild and nothing seems out of reach. 


But sometimes, like all kids, we had to ask for something. Every now and again, something would pop up and we just had to give it a shot and this was one example of those times.  Casey and Ryan asked my Dad if he could get them lacrosse sticks. They explained how much they loved the new sport and that they are getting a lot better at catching and throwing with the mcwhippet sticks in gym class. "Coach Ventiquattro said that he might start a team," Casey pleaded with him. "We'll see," my Dad said.


After a few more occurrences of this popping up around the dinner table, he knew my Brothers were serious about getting sticks. So he made a decision - one that would become one of the best financial investments he'd ever make. He ended up selling a shotgun to a friend in the neighborhood in order to gather enough money to buy the sticks for his boys. This decision to give up a $150 shotgun would eventually lead to three full scholarships to Syracuse University and three lives made in lacrosse - pretty good ROI. Not so sure you'd be reading this article on this website if he didn't make that choice.

Now back to the mall….


Ryan picked out a Brine Twinefinder (still an epic name after all these years btw) and, as fate would have it, Casey got a Brine Shotgun. They left the mall that day with giant smiles as they carried with them tools of a trade that would in return carry them through life. Being a Dad now myself, I'm sure my Father was feeling real good too because it's our goal as parents to make our kids smile and provide them the opportunity to follow their passions.



I remember seeing those sticks for the very first time. The orange truck pulled in the driveway and I met my brothers out front. They were pumped!  The sticks back then were barely performance driven. No one was pushing the industry. They may as well have bought the tennis rackets that were being sold beside them at Klein's. These two sticks had pockets that were flat as a board, hard as a rock and tighter than bark to a tree. It was awful and discouraging. It was easier to catch and throw with the gym class plastic pockets. 


The salesman at the shop had told my brothers that they had to really break them in. So day and night they would pound the pockets just trying to get them to not feel like a rawhide snowshoe. Finally they figured out how to loosen some strings and move some knots around. This made a HUGE difference so they just continued to tweak. It was this experience that led us here.
*This photo was taken a year or so after they got those first sticks. We were even to able to somehow procure a goalie stick which unfortunately became my first stick and my first position - as a six year old I had no choice, I just did what I was told.

We know first hand how important a lacrosse stick can be to a person's life - they're magic. That's why we make them - The Scout™ in particular. The Scout is a complete stick that we describe around the office as the ultimate "first" stick. We make The Scout™ for the players out there that are ready to dive into a new relationship with lacrosse. From our experience, the first impression is everything - we've seen kids get discouraged and never gain confidence within the sport simply because they have the wrong equipment.


When we first started this brand one of the first things we talked about was the "first" stick concept and how important it is, not just to us but the sport as a whole. The better the first interaction the more growth we will witness as a sport and a community. We feel a responsibility to offer sticks at an affordable price point for the hardworking parents out there with kids seeking a passion. We want to help you make them smile and we want the smile to stay there.


Every single Scout is hand strung by a certified member of our string team so it will be ready to play right about of the box. A great deep pocket will help young players keep the ball in their stick and the true release will make sure that they are learning good technique as they progress forward as lacrosse players. The pocket is incredibly important at this level of play so we put a lot of energy into this area. We want kids to fall in love with lacrosse just like we did - it's the world's best game.


I'd like to publicly thank my Father for showing us how to work hard for the things that you love. And to all of you parents out there working hard to give your kids the best possible life - we see you, we are you, we salute you and we're here for you.