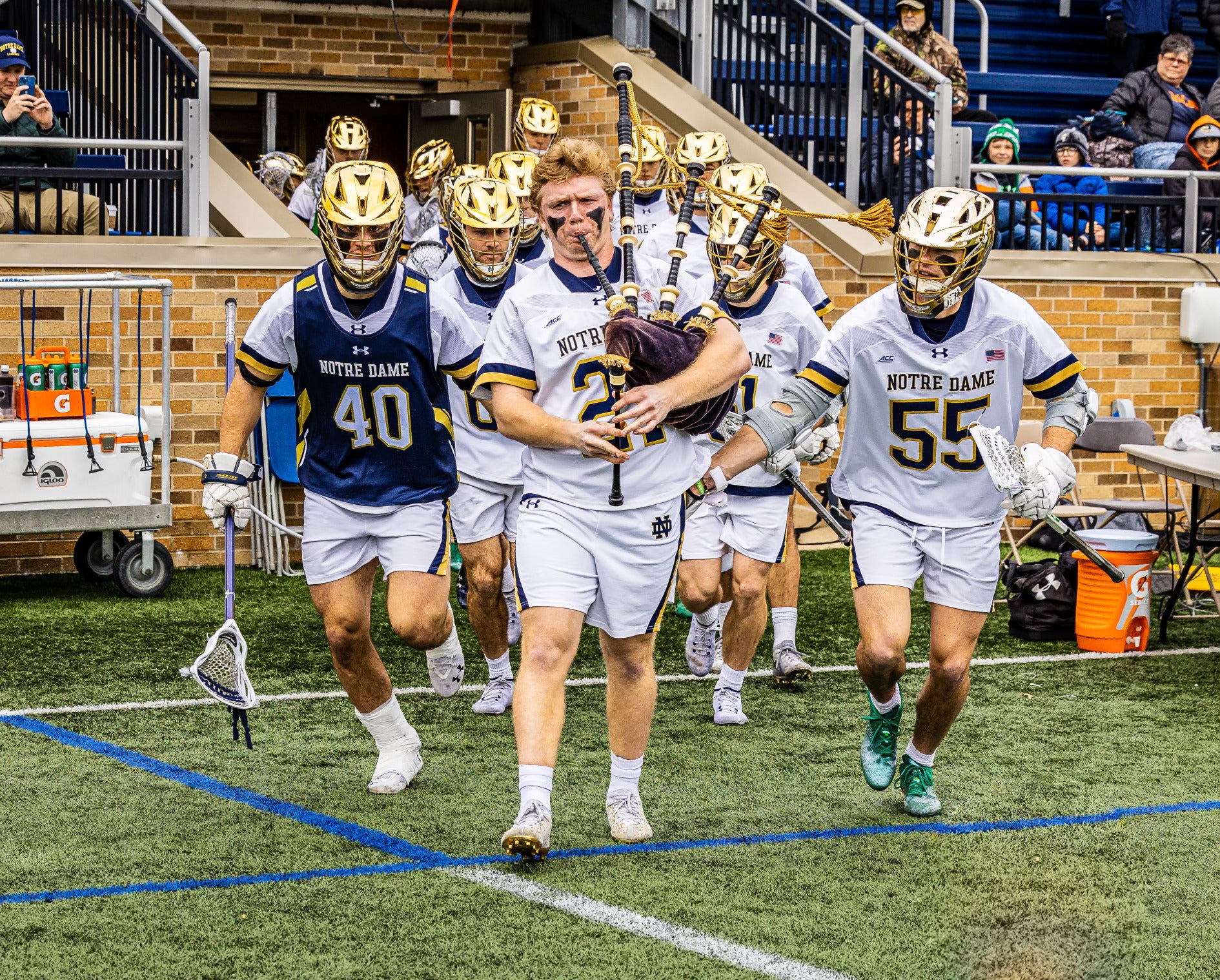 How do you become the Notre Dame lacrosse bagpiper? 
For Ross Burgmaster, he walked back to his locker after Notre Dame lost to Maryland in the 2021 Quarterfinals to find bagpipes hanging in it. He looked around at his teammates and asked if this meant what he thought it did. Senior Tommy McNamara, the team's graduating bagpiper, had chosen him. Just like that he became the tenth bagpiper in one of lacrosse's most unique traditions. 
We're proud to have Ross as one of our Powell Athletes as he is a great representative of the Upstate lacrosse community and seeing him lead Notre Dame out each game playing the bagpipes is truly special. It will be even more memorable as they host Utah this Saturday at Arlotta Stadium in South Bend for the first round of the NCAA Tournament. 
Ross was a three sport athlete in hockey, golf, and lacrosse at Auburn High School just outside of Syracuse so he is used to juggling a lot of different responsibilities and excelling at them. It only seems natural that he would add on something like the responsibility of the bagpipes. After playing in all 12 games of his freshman year at Notre Dame there would be no time to relax once he was chosen to take them up. 
"I remember talking to Coach Corrigan that summer and he said it was awesome I was the new bagpiper, but he basically said figure it out now," Ross said. "It's truly an honor and from that point on I was focused on learning this. That's part of the tradition is that it's on you to learn and all the guys are counting on you to lead them out every game."
Since 1996, a bagpiper has led the Notre Dame lacrosse team onto the field before games. The first bagpiper Sean Meehan had been playing the instrument for a long time with his family in New York City St. Patrick's Day parades so he could actually play them very well. The pipers that came after all had to learn from scratch so let's just say they didn't sound as polished. Ross would use every resource he could to figure them out. 
"It's one of the hardest instruments to play, but I was fortunate to have a woman who lives in Auburn named Betsy Buchanan who is in her 80s and she spent a lot of time helping me learn." 
Now a junior and in his second year as the bagpiper, Ross is a bit of a swiss army knife on the lacrosse field who can switch between playing close defense, LSM, run the faceoff wings, and he even scored in transition in their most recent game against North Carolina. He's been able to play near home against Syracuse in the Carrier Dome a few times in his career including their big win this season in front of a ton of friends and family. 
"It's such a cool experience. I remember looking up and seeing everybody and I get a rush just thinking how thankful I am for all that support the community of Auburn and my friends and family give me. I try to never take that for granted. It's always so cool coming to the Dome knowing they're going to be there. This was probably the last time I'll get to play there so I really soaked it in."
Getting ready on game day is already nerve racking enough thinking about what will happen and trying to remember the scouting report, but adding a musical performance is a whole other level of stress. Notre Dame usually goes out for their first warm up to stretch, do stickwork, and footwork before going back in to get their game uniforms on. With about 8 minutes left they go out for the final warm up, but first Ross needs to also get the bagpipes ready. 
"In the colder weather it's really hard to play them so the bagpipes have to literally be warmed up. In February and March, I try to play them a little bit more before I walk out and make sure I've got everything right."
That's when the curtain rises and it's all eyes on Ross. 
But he's not alone. His teammates are lined up right behind him along with the support of every bagpiper that came before him and everyone who's ever put on a Notre Dame lacrosse jersey. When the triumphant cry of the pipes rings out, that's when you know it's game time for the Irish. 
𝗛𝗘𝗥𝗘 𝗖𝗢𝗠𝗘 𝗧𝗛𝗘 𝗜𝗥𝗜𝗦𝗛!#GoIrish☘️ pic.twitter.com/GAIKR4hII7

— Notre Dame Lacrosse (@NDlacrosse) February 19, 2023
Bagpipes make a sound that people either love or hate. 
It's a sound that some people might describe as a goose being strangled. But because of the history and the warlike cry emitted from them, the bagpipes are an emotional tool. They're usually heard at weddings, funerals, military ceremonies, and of course St. Patrick's Day. They have a long history in Ireland and other countries dating back centuries where pipers played armies into battle as a way to intimidate and encourage each other to do deeds of valor. For Notre Dame lacrosse, it's a sound that helps them flip the switch and makes the Fighting Irish come to life. 
Especially at Arlotta Stadium, that moment gets the crowd amped up as well. Notre Dame is a school full of traditions in their athletic programs especially for football, but the bagpipes being played by a player on the team is solely a lacrosse one. It's a bucket list item that fans want to come and experience along with watching the game. 
"The community we have at Notre Dame is awesome and I'm really excited for Saturday to host the first round. You see the support even more on the days where it's 40 degrees and raining people are still coming out and filling up the hill and packing the stands. You can't take it for granted and it's unlike any other."
After a shocking end to their 2022 season where they were left out of the playoffs, Notre Dame has looked like a different team this year as they have gone 10-2 and been one of the most exciting teams to watch in the country. 
"We took being left out personally and we still have the bracket from last year hanging up in the locker room. It reminds you everyday when you come into the locker room what our why is."
Fueled by their senior class and the addition of a few transfers they have been on a mission all season. The transfer in of players has also created a one of a kind situation in the history of the team's bagpipers. 
"This year has been very different because Brian Tevlin from Yale transferred here and he's been playing the bagpipes since he was about 7 years old. His Dad was the head of a bagpipe marching band. I ran it by Pat Kavanagh and the captains and we knew we wanted to do it because it would be the only time in Notre Dame lacrosse history to have two bagpipers walk out."
Ross played the first few games of the season on his own, but at their game against Ohio State they decided it was time. 
"If having two guys come out is going to fire our team up even more then why wouldn't we do it? It was never about just wanting it to be me. Especially after everything that happened last year it was a statement. I think it's also representative of our culture this year of having everybody buy in. I couldn't be happier having Brian walking out as well."
HERE COME THE IRISH!#GoIrish☘️ pic.twitter.com/cGBMTHHtUC

— Notre Dame Lacrosse (@NDlacrosse) May 6, 2023
Having another experienced bagpiper has also allowed Ross to keep learning and get better at such a difficult instrument. 
"Brian showed me breathing techniques and helped me learn 'Amazing Grace,' which we've been walking out to and then we go right into 'Scotland the Brave.' He showed me how the chanter has to be in tune with the drones and he also tuned my bagpipes, which you need to have a really good ear for. Walking out with Brian not only does it sound better, but it looks way way cooler." 
It's fitting that Brian is also a jack of all trades type of player who excels all over the field. Along with bagpiping he has played basically every position except for goalie for the Irish this season. 
Ross credits a lot of the team's success this year to the guys on their scout team that might not get any love in the media. They are learning a new offense or defense every week and making sure the starters are prepared. 
"Our scout team guys who don't get any attention in the media like senior Max Manyak have really pushed everybody from the top down. That's something we've talked about is that it's not about the guys playing on Saturday or scoring goals. It's about the little things that help us prepare for each week."
The Irish like to stay in the present by saying they need to be 1-0. Only looking ahead to win their game that week. 
"There's nothing past that game against Utah right now. Our focus is just Utah and what we can do everyday to get better. Getting 1% better each day. I think that's what has helped us get to where we are now, not looking at the big picture, but just taking it day by day. If we do that things will fall into place, but first it's getting through Utah." 
When the Irish walk out on to Arlotta this Saturday, Ross and Brian will ensure that the sound of the bagpipes fill the air and the spirit of all those who came before walk out with them as they begin another playoff journey this May. 
"The pipes will be dialed in for sure and it's the last time coming out on Arlotta this season so we'll make sure to leave no doubt."