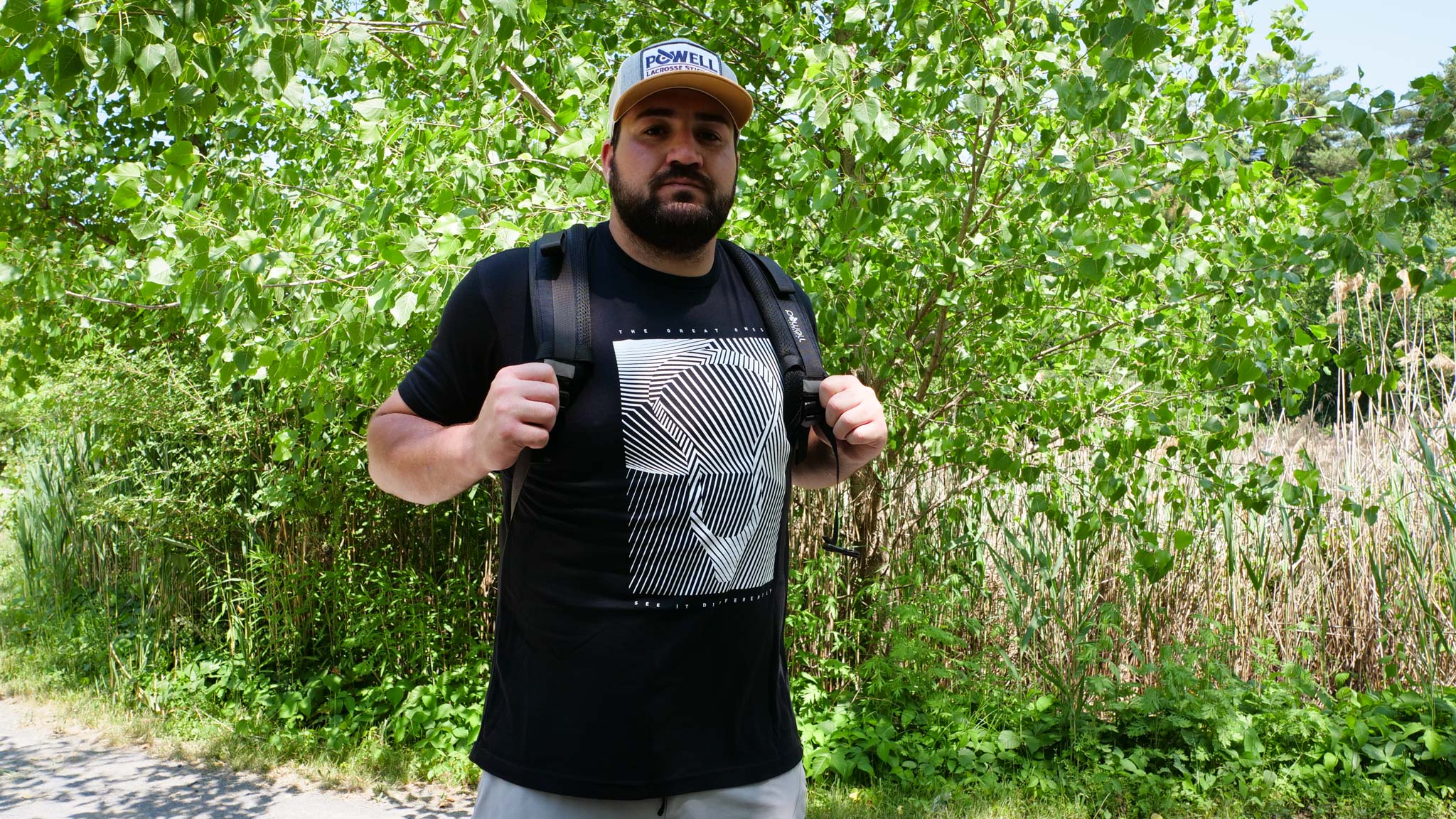 The most dynamic lacrosse player in the world right now is Blaze Riorden.  He's totally one of one and will forever occupy a space in lacrosse history as one of the most unique athletes the game has ever seen. His game, like a liquid, is in perpetual motion - constantly evolving and ever-changing. His style is versatile, electric and gutsy. With a magnetic personality and an unmatched competitive drive, Blaze has become a household name with die hard fans all over the country in his corner. 
Blaze may not win many 40 yard dashes or bench pressing contests, but he's going to beat you. Like a Swiss army knife, Riorden is a magician with a bag of tricks bigger than anyone else. His skill set extends far beyond just what is displayed by the hands and feet. There is something very special going on under his helmet and behind his chest protector. He plays with a different mind and with a deeper passion than most. 
Like most people, the first time I witnessed what makes him so unique was in 2015 when I saw a young goalie from University of Albany on the ESPN Sportscenter Top Ten. In the first round of the NCAA championship he carried the ball over midline, rolled past a few defenseman, threw a perfect fake and ripped a lefty sidearm on the run. It was in this moment that the lacrosse world as a whole realized that he was totally different. The amount of confidence, skill and fearlessness packed into that one play was simply mind blowing. But I remember my major take away was "Wow, that dude loves the game and is having a blast playing." That is what initially drew me into the Riorden corner, but it's what has happened since then that has kept me there. 
Born and raised along the banks of the Erie Canal in the picturesque town of Fairport, New York Blaze fell for lacrosse early. For his Father Mike, who had grown up playing lacrosse, it was a no-brainer to introduce his son to the power of America's first game. At four years old he began his journey as a lacrosse player and his surroundings provided him with endless inspiration. Local legends like Joe Walters, Brett Queener and Mike Manley were playing right in his backyard. He could jump in the car and easily head down the thruway to the Carrier Dome or take the short trip into Rochester for a Rattlers or Knighthawks match up. 
Blaze started his career as an offensive player, but like the origin of most young goalies, his youth team needed a goal stopper not a goal scorer. No one stepped up to fill the role so his Father threw young Blaze into the net and that's where he stayed…kind of. I think we have this impression that goalies are these very defensive minded people that are just wild men, possessing a singular skill to stop the ball. That couldn't be further from this story. Blaze would come home from youth practice and immediately trade his goalie stick for a shorty and head out to the backyard to dream of scoring big goals.
It wasn't that he didn't like playing goalie, he just loved playing lacrosse - every single part of it. Like us, his game was about creativity, freedom and was totally driven by his imagination. In a time when specialization is becoming standard and young players are forced to commit to a position earlier and earlier in their athletic careers, Blaze didn't just break this mold - he shattered it, stomped on it and chucked it into the trash. He just had a passion for the simple act of playing that couldn't be put into a box or labeled by the title of a position. 
In his junior year of high school he played in the Syracuse Shootout as an attackman. He caught the eye of Scott Marr, the legendary lacrosse mind and head coach of the Albany Great Danes. Blaze told Coach Marr that he's actually a goalie and he was just playing attack at this showcase for fun. Marr knew right then and there that Riorden would look perfect in purple.
Scott Marr has a real appreciation for unique personalities because he's got one himself. There is no coach out there that is quite like Scott Marr. Very much in the same way that legendary Syracuse coach and artist Roy Simmons Jr. approached coaching. Marr doesn't try to change his players to fit into a mold. Instead he sees power in allowing players to be themselves and express themselves on the field. 
Marr himself is a product of one of the biggest and most notable lacrosse programs in the entire country. Yorktown High School, especially back in the 80's and 90's was like an All-American factory churning out the country's top players one after another. As a player Marr won a national championship as a member of the Johns Hopkins program so he is no stranger to success and much of his life was spent around lacrosse greatness, so he saw something really special in Riorden and asked him if he wanted to come spend four years with him in the capitol region. 
Blaze couldn't resist the opportunity to play for Marr and set up shop as a Great Dane in Albany, once again alongside the Erie Canal. They became fast friends and Blaze really grew as a person and player. His confidence grew and he kept that childhood passion for the game alive and kicking. 
He would spend the summer playing short stick with the Thompson's on the Akwesasne Reservation, scratching that offensive itch and improving his eye-hand coordination. Marr encouraged it. He would come back season after season better than the year before, constantly improving.
Eventually his four years at Albany came to an end and it was time to take the next step into the world of professional lacrosse. This brings us to the present. Blaze is currently the best field goalie in the world, leading his Premier Lacrosse League team the Chaos and shutting down opposing teams. He plays offense in the National Lacrosse League and is one of the leading scorers for the legendary Philadelphia Wings organization. He is also a member of both the indoor and outdoor USA National teams. 
If you watch Blaze Riorden play goalie you'll quickly notice that his stick skills are clearly better than most goalies. His game is exciting because he makes so many stick saves and the offensive mind forces him to immediately push the ball the other direction. He speeds things up, which we love and support of course. 
Maybe this a lesson for all coaches out there that tend to lock their young players into a position right off the jump.  Of course it's important for players to own their positions, but in this case we witness the effectiveness of having knowledge of what it's like on the other side of the ball. Blaze doesn't just react to shots like most goalies. Because he plays offense he knows EXACTLY what is going through a shooter's mind and can anticipate the shots much more effectively. When you watch him play, pay close attention to his angles, that's part of his magic. He knows where he would want to shoot it if he were in the position of his opponent and oftentimes arrives there before the ball. The same is true when he is shooting in box lacrosse, he knows exactly what is going through the goalies mind because he's been there. 
Blaze is a lacrosse player through and through. His calendar year is straight forward - lacrosse, travel, repeat. He goes from one season to the next, from airport to airport and hotel to hotel. Like his name suggests he is totally blazing his own lacrosse trail - pioneering, exploring, pushing and always honoring the game. Leaving behind him a legacy like no other and truly his own. 
When we sat down and talked about the current player that embodies what we are all about as a brand - Blaze Riorden was it. It is such an honor to have Blaze in Powell gear. Every time we see a photo of him in a Powell hat it makes us feel good that such a great ambassador is showing support of our brand. We created the Blazer backpack with him in mind. A versatile product that's durable, long lasting and multipurpose. It works on the field and off. It's always game and ready to travel. 
Aside from his obvious skills as a lacrosse player, it's his approach to the game and respect for the roots that I find most admirable. We have some really fun ideas coming down the shoot that we will keep you all posted on, but until then let's all tune into this year's Chaos squad and watch one of the best ever tear it up again.    
We are honored to be friends with Blaze and work together with him and continue to fill the lacrosse community with all of the beautiful and positive aspects of this game - the creativity, passion and that childhood love for simply playing. We wish Blaze the very best - here's to another incredible year of lacrosse and continued success. 
I'm here to stay in the Riorden corner. Light it up Blaze!