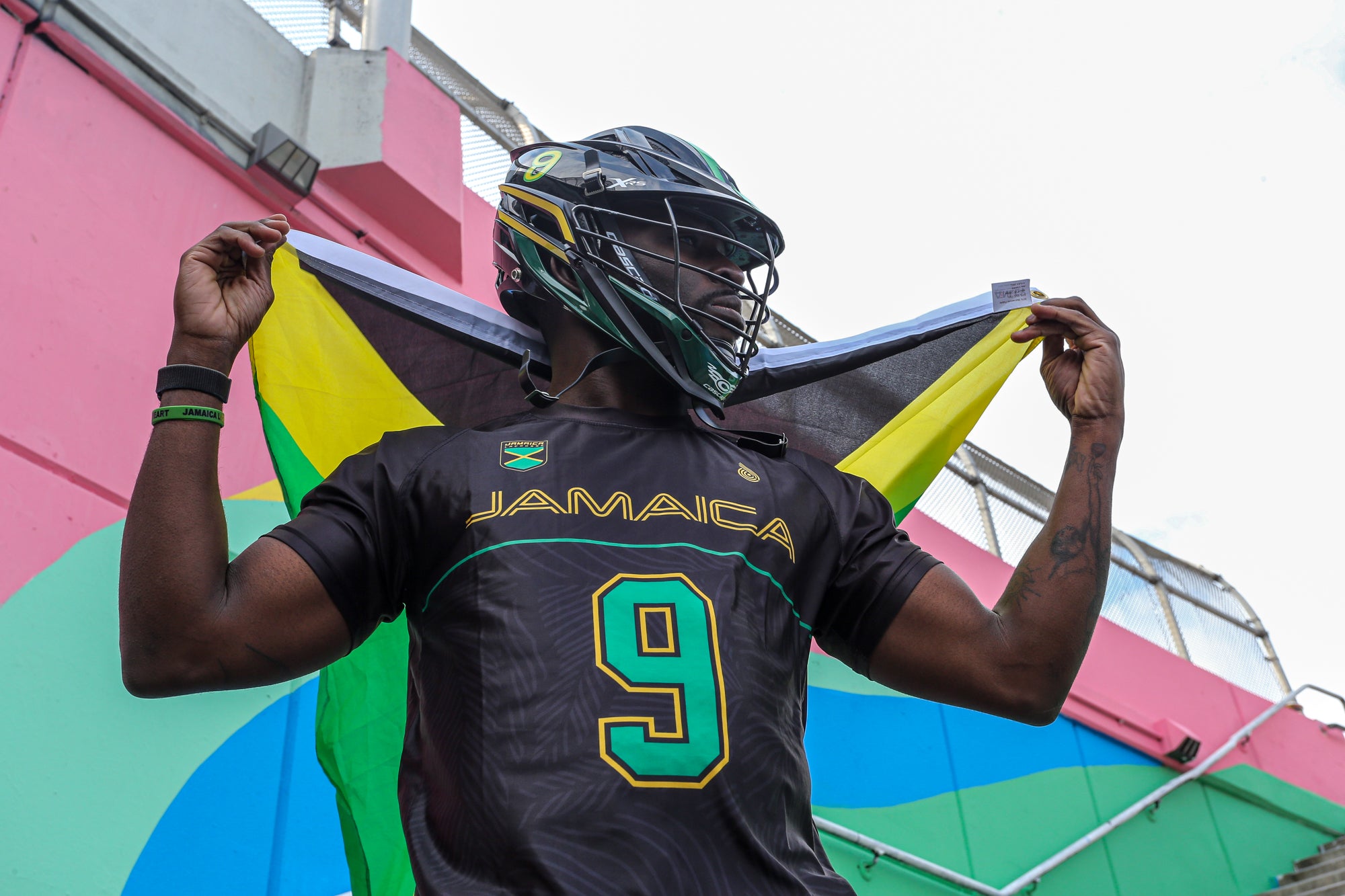 One dream. One love. 
The 2023 Jamaica Men's Lacrosse Team will carry the love of their country, their lacrosse dream, and the beautiful energy of the island with them to the fields of San Diego on their journey to make Jamaica one of the best lacrosse nations in the world. This team will have a chance to take a huge step forward in their brief history when the World Championships begin on June 21st. 
Powell Lacrosse is honored to be the uniform and apparel sponsor of the Jamaican National Team and help them write a new chapter in their remarkable story. 
Heading into their second Men's World Championship appearance, the team will look much different with a new coaching staff, players from college and pro teams, and growing support from the lacrosse community on the island. 
Although lacrosse has only been on the island in an official capacity since 2012, the history of Jamaican lacrosse players is a much longer one. Players with Jamaican heritage have dotted the rosters of high school, college, and even pro rosters all over the United States and Canada for many years. The makeup of the 2023 national team starts with their current Head Coach Mark Wilson. 
Mark's father moved from Jamaica to the United States in 1950 and Mark would go on to play lacrosse at Lehigh in the 90s. He found a connection with a fellow Lehigh alum Errol Wilson whose family is also from the island and they discussed their shared heritage many times (they don't believe there is any relation, but their families are from similar parts of the island.) When Mark heard that Errol was named the first head coach of Team Jamaica back in 2017 he called to congratulate him. 
"I told him if there's anything I can do to help out please let me know," Mark said. "I was thinking of helping out with fundraising or collecting equipment. But he said 'well I don't have a staff yet, do you want to be on the staff?' I said of course." 
Mark was an Assistant Coach in Jamaica's first World Championships trip in 2018 and recently was named the Head Coach of the team leading up to the 2023 games. His connection with the island is stronger than ever since he became a part of the national team. 
"Growing up the stories, the food, and the music have always been a part of our family. We're very proud of our Jamaican heritage. Having this opportunity with Jamaica Lacrosse has brought me back a few times and this is a whole other level being able to go there to do something productive and build lacrosse there. The coaches there are really thirsty for knowledge, acquiring it, and implementing it."
Sports are a celebrated and important part of Jamaican culture that the government puts a lot of resources into to build programs for the youth. Sports like lacrosse help bridge the gap between some of the socioeconomic differences on the island. It doesn't matter what neighborhood or social class they're from when they get on the field. Doing well in sports is a chance to go to college or even become a professional. Sports are a part of the national identity.
If the lacrosse team does well maybe young athletes will look up to them like they do Usain Bolt. 
"Jamaica is very well known and expected to be good at sports. Our track program is second to none. Netball, cricket, and soccer are very well followed and very popular there. I think lacrosse is on the verge of following along those lines. We're a small country, but very proud. When you compete successfully people like to know about it, like to talk about it, and like to enjoy it. We're really trying to capitalize on the World Championship competition to spread the awareness and the appreciation for the sport down there." 
What surprised Mark the most when he first began helping out was that there were already players that were born on the island, started playing lacrosse there, and were in the United States playing college lacrosse. In 2023, there are around 12 guys and 2 girls that came up through the programs in Jamaica that are playing in the NAIA, Division 2, Division 3, JUCO, and club leagues. 
"It's so interesting to see that the skill level has gotten to that point where players could come over here and play. There's only going to be more players because it's expanded so much."
This rapid elevation in awareness and skill is in large part due to Kevin Dugan and Fields of Growth making a big push to start lacrosse in Jamaica in 2012. Teams sprouted up in the local high schools and quickly found a dedicated group of players and coaches who loved it. Since then with the hard work of the Jamaica Lacrosse Association and President Calbert Hutchinson, the game has been growing like crazy on the island. Lacrosse was recently approved to be taught in physical education classes. The excitement and level of play at the boys and girls high school level is growing every year. 
"They have a really vibrant high school tournament at the end of the season where there's so much enthusiasm for the game. It's really intense and competitive and people are on the sideline with the big vuvuzela horns going wild. The best players on the best teams are comparable to the guys who are trying to play college lacrosse here. There's some really good athletes and there are also some really highly skilled players in that mix." 
Since their first appearance in 2018, the roster of the national team has been an interesting collage of players that allowed them to be competitive right away. 
"That first team had three homegrown guys and the rest were guys in the diaspora. In our player pool we have guys that live in Jamaica, England, Canada, and in the United States. We're all over the place. If you follow the Jamaican diaspora we'll keep finding players as long as that's where lacrosse is."
After World War II and into the late 20th century, thousands of Jamaicans moved elsewhere for work opportunities. There are an estimated 2 million Jamaicans living away from the island that either moved from there or one of their parents or grandparents were born there. Playing for the national team is an opportunity for players with Jamaican heritage that live away from the island to reform that connection in a special way. 
"Everybody is a parent or a grandparent removed from being on the island. Three of the guys on the 2023 team were actually born there. What you see is that lacrosse is drawing guys back to their country of origin. There's a lot of guys on other teams that have moved back and coached to really reclaim their roots. I definitely see that happening with our group." 
The 2023 national team roster is made up almost entirely of players who grew up playing lacrosse in the United States, Canada, or England which leaves defensive midfielder Sammy Henry as the lone homegrown player on the roster that grew up playing in Jamaica and is now ready to compete in the World Championships. Mark knows that this will be changing very soon. 
"There's a couple guys from the island program that are one guy away from being on the team or being alternates. It's only a matter of time before more guys are coming directly from the island program."
No matter where they grew up, when these 23 players put the green, black, and gold of the Jamaica jersey on their shoulders they will be representing all the hopes and dreams of everyone on the island. 
That first experience for Jamaica to play at the international level in 2018 was eye opening in many ways both on the field and off. 
"Israel invited us to play the opening game versus them before the opening ceremony. It was a really competitive game and they pulled away at the end, but we scored first and it was a great moment for us with so many people in the stadium. It was our first time competing and even though we lost it set the tone for the tournament for us because we got so much fan support after that game. We won the rest of our games in the tournament going 7-1 and finished 13th in the world. So it was a really successful outing." 
There's a strong bond between Jamaica and other emerging lacrosse nations like Uganda. That was on full display during the 2018 games. 
"One of my favorite moments was after our second game when we played Russia and got our first international win. Team Uganda was watching our game and cheering for us the whole time. They were so excited to watch us playing well and to get our first win in team history. After the game we got ready to take a team picture and Uganda stormed the field and took the picture with us. While we were taking the picture someone started singing 'One Love' and everyone joined in. 
"It was like a moment out of a movie." 
"Part of our mission statement is to establish the fact that all people of all colors can see us and know that you don't have to look a certain way or be from a certain social or economic demographic to be successful in our game. We want to represent that. We want to hopefully open doors and open eyes for players that look like us and also everyone that doesn't represent the traditional lacrosse community. They will see us and say hey this is something that I can do, have fun at, and love." 
Representing Jamaica is more than just wins and losses for Mark and the team. Lacrosse is bringing them together like the motto of the island: out of many, one people. 
"Other than Sammy Henry who came through the program on the island, all the rest of us came up in traditional Canadian or American lacrosse settings. Every other team we've been on we're different. We're a minority in that group. Having this opportunity is a very special thing for us to be in a group where we all share a similar background. So for that reason I think it's been a little bit easier to ramp up the team culture and bonding. We're excited about representing our heritage in that way." 
Coming into the 2023 World Championships, Mark is confident that their 23 man roster will turn some heads with a very talented and experienced group. Many of them have been with the team since 2018, played in the men's qualifiers in 2021, or were on the U21 squad last summer. Even with some injuries they now have the ability to fill spots with great young players. 
"What's interesting about our player pool is that it's so much deeper now. Unfortunately, Hakeem Lecky has decided to wait another year before competing due to a head injury he had a few years ago. Dante Bowen from Ohio State tore his Achilles a few weeks ago playing box lacrosse. Those are two pretty good D1 guys, but we were able to replace them with two other D1 guys, AJ Knox from Hampton and Kari Sears from UMass Lowell."
The backbone of Jamaica lacrosse from the start has been their defense. 
"We have a great goalie Nate Mcpeak who was a reserve player at Syracuse who is an amazing goaltender and an amazing leader. We've got Gorran Murray who played at Maryland, Tony Diallo who plays at UMBC now, and our defense is just really really solid."
Look out for the Jamaican offense and transition game to be what separates them in the games this time around. 
"This will probably be the best offensive team that we've put together. We have Marcus Minichiello who plays for the Philadelphia Wings right now, Evan Redwood was a big player at Amherst and will be the quarterback of the offense, and we have a variety of other guys like Mike Lawrence and Daniello Parkinson who just fill really good roles."
"An advantage for us is that we have a lot of guys who can play at both ends of the field. Riding and clearing are incredibly effective for us and we're able to play a couple more lines more in the old school way where guys can play offense to defense or defense to offense and stay on the field."
After finishing 13th at the 2018 worlds, the goal for 2023 is to take that next step toward being a top lacrosse nation. 
"We're really hoping to get into the Top 10 and the dream would be to get to a medal round game. We're hoping that every game we're in is going to be a competitive one where we have a chance to win and we'll see where the chips fall." 
Thank you to the Jamaican Lacrosse Association for trusting Powell Lacrosse to create uniforms that help express the identity of their team and the island. 
"Organizationally we obviously want to be a legitimate player in this realm. We want to be viewed as a competent, successful, competitive organization. Having a brand like Powell Lacrosse that represents the best aspects of lacrosse so fully supporting us just brings a huge amount of credibility to what we're doing. We're incredibly appreciative and we're certainly really proud to honor that logo. We definitely want to bring pride and bring great recognition to the Powell brand."
We couldn't be more excited to support Team Jamaica at the 2023 Men's World Championships. The emergence of lacrosse in Jamaica represents everything we love about how the game can take hold of people's hearts and create such a deep passion. That's how it started for the Powell brothers in their backyard. Their authenticity and commitment to growing the game, playing with a full heart, and representing their heritage makes us honored to be a part of their journey.
The lacrosse world is behind you!