The Magic of Summer Lacrosse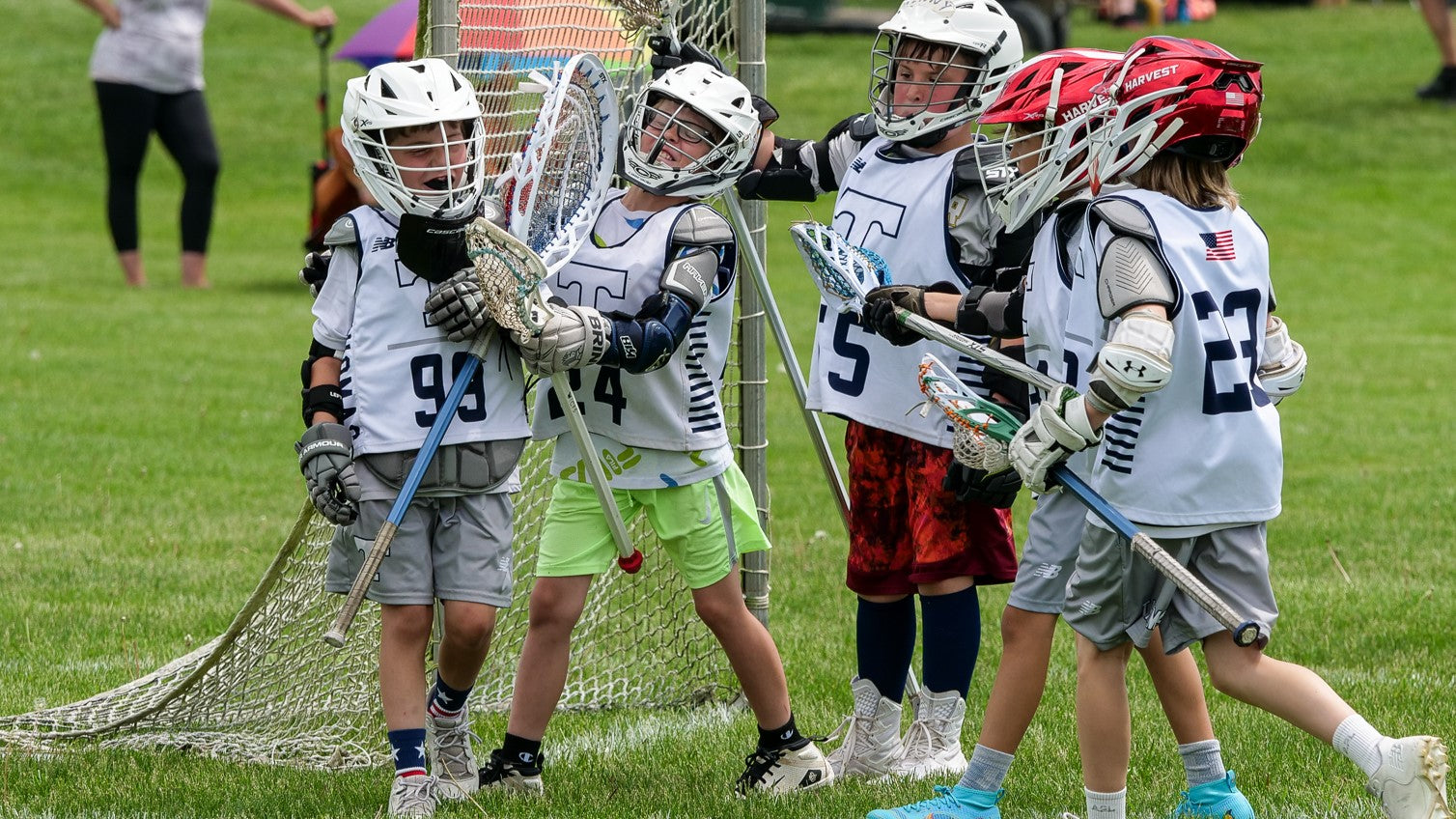 Freshly painted lines on grass fields, the staff buzzing around on golf carts, freshly applied sunscreen, and players doing line drills are familiar sights, smells, and sounds that welcome you at lacrosse tournaments and camps across the country. 

The start of summer brings with it the return to the fields of tournaments and camps for players, parents, event directors, and lacrosse companies like us. These events turn the page from the competition and intensity of the spring lacrosse season to a more fun and free time of year. The recruiting tournaments where young players are desperate to catch the attention of a coach are important, but the tournaments where kids show up to just play and have a great experience are what really foster a love for the game. 

Hanging out with your teammates in between games, the chance to try creative shots and plays, checking out the vendors and getting ice cream, and the opportunity to play against teams from different states and see different play styles. Running around the hotel after a day of games and going straight to the pool. Doing it all again the next day. 

At instructional camps, excited coaches greet the eager players on the first day of camp at check in. The young players may be nervous as the first drill starts and not want to mess up, but that's what lacrosse camp is all about. Messing up and then learning how to correct it and get better. 
Summer lacrosse is a chance to find the fun in the game in a different way. 

This summer we have made it a priority to bring Powell Lacrosse products on the road to tournaments and our camps all over Upstate New York and the country so that we can continue to grow the awareness of our brand and bring some fun everywhere we go. Our Director of Event Operations, Michaela Fazio, is leading the charge and although her sports experience comes mostly from being a college soccer player and coach, she is quickly finding out what makes lacrosse events special. 

"I have experienced my share of tournaments throughout the years, but none are as unique as a summer lacrosse tournament," said Michaela. "Even the tournament names like the Upstate Lacrosse 'Festival' or 11-town 'Jamboree' offer a whole new, electric atmosphere."

"What sets lacrosse tournaments apart is the overwhelming sense of camaraderie. Everyone helps each other and gets to know one another, with one thing in common: love for all things lacrosse. This makes it easy to form instantaneous friendships. My role has been invaluable in furthering my knowledge and understanding of the game and culture of lacrosse."

"With my personal and career goal to positively impact lives, especially our youth, I have seen firsthand at this company how to do just that. I've seen it in many ways, such as putting together a complete stick for a kid and watching them light up at all the options until they find that perfect combination, to something as small as being engaged while they tell you all about how their games that morning went, and how they played. It is at those moments that I'm reminded of the kind of impact we can have in growing the game by bringing the best products and experiences to the lacrosse world."
Those moments when we can give a new stick to a player are what make all of the hours of behind the scenes planning worth it. 

The first lacrosse tournament I ever went to was the Cranbrook Lax Jam at the Cranbrook School in Bloomfield Hills, Michigan. It was after my first ever season in 5th grade and teams from all over Michigan and even Ohio came to play to kick off the summer. 

Thinking back, I honestly couldn't tell you if we won our games or not. Those weren't as memorable as all of the fun off the field. 

Running around with your friends in between games and playing tag or other games. Then heading to the vendor village and seeing the most lacrosse gear I'd ever seen in one place. The seemingly endless tables and racks of sticks, heads, gloves, and the guys at the booths stringing up sticks. My family couldn't afford to get me a new stick or gear at these tournaments, but I was fine just looking at the stuff, trying on every pair of gloves, and asking the guys working the tent a million questions. 

I used to think the guys working those booths were so cool. Now I get to be one of them. 

When I'm working at the Powell tent, I treat every interaction I have with a kid as an opportunity to help them on their journey. Every head or stick we sell could change a kid's life. It's a responsibility and I care deeply about making sure I'm representing Powell in a fun and positive way because I see my younger self in every kid that comes up to our booth. 

Some are shy and just look at our heads and gear without saying anything, but you can tell they're interested. Others come up and make sure you know how dope, fire, and dirty the sticks are and try to cut deals or trade you things. 

When someone walks away from our booth with a new stick I make sure to say "have fun!" I hope they can't put it down and spend hours doing stick tricks or playing catch with friends. I get the most excited thinking that these kids will be making big plays or scoring game winning goals with our sticks. Maybe our stick gives them the confidence to take their game to the next level. 

The love and passion for the game that the Powell Brothers have is in every stick we sell with the hope that it transfers to the player. 
Going to a lacrosse camp is a very different experience that can be challenging, but fun in its own way. 

I remember counting down the days until lacrosse camp every summer. So many of my other friends were going and I would get to meet a lot of other local players. I remember the talks about the history of the game and the motivational stuff more than I do the drills or the scrimmages. 

When you're in elementary school or younger, it was always a blast to do sharks and minnows, accuracy competitions, wheel barrel races, and all the fun drills that you don't normally do during the spring season. There's less pressure and more emphasis on learning skills in ways that are more fun for kids. 

As I got older I went to De La Salle lacrosse camp in Warren, MI (I would eventually go to high school there) where they had alumni that were players at Detroit Mercy or even played at Denver University. This was much more focused on getting players ready to play at the high school level through detailed instructional talks and drills. They broke down 1 on 1 dodges and defense, shooting mechanics, and when to use trick shots like behind the backs in the right moment.

I still remember the stick trick competition we did at that camp the summer after my sophomore year. The final round was a game of HORSE against another camper in front of the entire camp. With some tricks I learned from watching the Powell Brothers on YouTube, I was able to win it. I got a small horse figurine as a prize that I still have. I might not have been the best player there, but winning that was the most fun I'd had playing lacrosse up to that point. 

Another highlight was Anthony Kelly aka A-Train coming to do a shooting demo and see in person how fast he shot. He gave some of the faceoff guys a quick demo as well and I hung on every word. This was a real pro lacrosse player. I shook his hand as he signed posters for us and I hung it up on my wall. We were so removed from pro lacrosse in Michigan that it felt like I finally made a connection to that world that I so wanted to be a part of. 

Guys like him did that all over the country and that's what Casey and Ryan Powell have done for many years and are still doing today with Powell Lacrosse Camps. And we love to see players like Blaze Riorden carrying the torch and bringing his energy and knowledge to our camps. Planting that seed of lacrosse in the hearts of kids everywhere is the ultimate goal. 
That's why these camps still matter. It's so rewarding to see a camper get better each day and by the end they are doing the drills and throwing and catching seamlessly. Their confidence through the roof as the coaches encourage and support them. Watching tutorials on YouTube cannot replace a coach helping you with your hand placement, form, and all the small corrections that they can make right there to make you a better player. 

Our camps are designed to instill hard work and a love for the game, but it's always about the fun. If you're looking for a camp experience that will leave a smile on your young laxer's face then take a look at our lineup of camps this summer: 

If you'll be at a lot of tournaments this summer, then join us at one of the many events we will be bringing the Powell tent to this summer. Stop by to say hello, we'd love to help you get set up with a new Powell rig.

6/17 - 6/18   Mass Youth Lacrosse Jamboree (Devens, MA)
6/24 - 6/25   Saratoga Shootout (Saratoga Springs, NY)
6/26 - 6/28   Lake Placid Youth Tournament (Lake Placid, NY)
7/8 - 7/9   NXT Cup (Philadelphia, PA)
7/8 - 7/9   Philadelphia Summer Invitational (West Chester & Conshohocken, PA)
7/11 - 7/12   Midweek Confidential (Hillsborough Township, NJ)
7/14 - 7/16   Victory Liberty National Elite Showcase (New Castle, DE)
7/15 - 7/16   Victory Liberty Invitational (New Castle, DE)
7/15 - 7/16   Niagara Lacrosse Classic (Youngstown, NY)
7/16 - 7/18   Ocean State Showdown (Providence, RI)
7/15 - 7/16   Summer Bulldog Bash (New Haven, CT)
7/22 - 7/23   Lake George National Invitational (Saratoga Springs/Lake George, NY)
7/29 - 8/6   Lake Placid Summit Classic (Lake Placid, NY) 
With Father's Day coming up, I especially think of my Dad when I think of summer tournaments and camps. He would drive me to them no matter the distance and be cheering from the sidelines no matter how well I played. Ready with a smile and a gatorade to give me after the games. My Dad passed away on May 15th and I work everyday to make him proud. Hug your fathers tight this weekend and thank them for everything they do for you. 
See you on the lacrosse trail!