"Dad, Can I Use The Bandsaw?"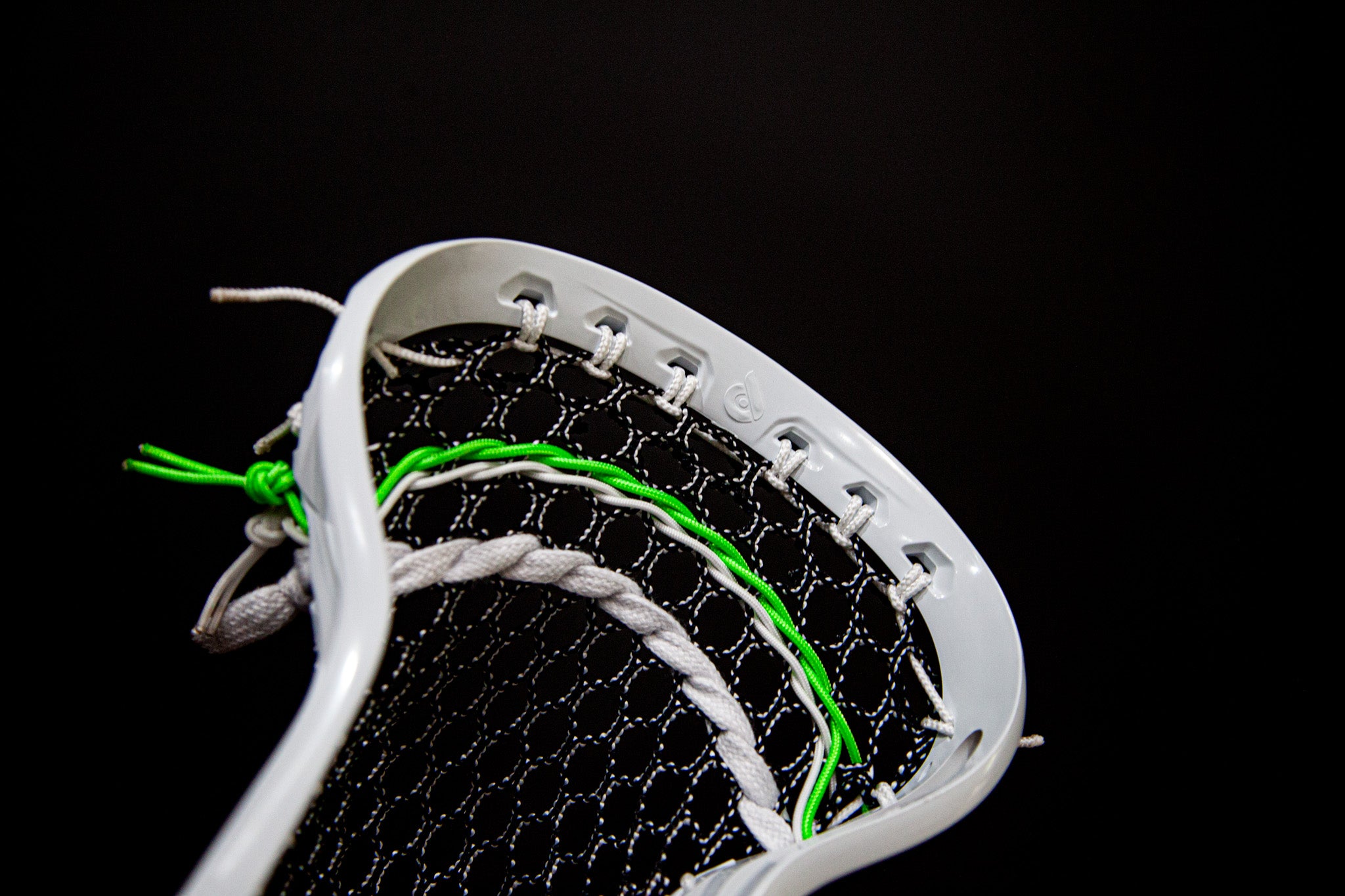 I was a frustrated and tiny five year old kid when I asked my Father this question. When I first started playing lacrosse in the backyard with my brothers the regulation sized hand-me-down stick was just way too big for me. The dented aluminum shaft would hit the ground, I'd trip over it and it would get caught in my shirt constantly. I tried choking up but then I lost the power and accuracy of my shot. I tried moving my hands down the handle but then the accuracy was completely gone and the stick was too top heavy.
I didn't know it at the time but playing with a lacrosse stick that was too big for me was teaching me bad habits that I would later have to correct. Not too mention, I was totally fed up with watching my older brothers do all of these cool tricks and shots where they were in total control of their sticks and their movements were smooth as silk. Our games were intense in the backyard - muddy and bloody. We were all extremely competitive and my brothers never "took it easy" on me, which looking back was an important lesson for me to learn.
In those very early days of playing, I just could not beat those guys. I was quick and fast but I couldn't protect my stick. No matter how hard I tried, my little body could not prevent them from checking it away from me. I was probably 35" tall and a regulation stick back then was between 40" - 42" long. Do you see the issue I was dealing with?
Of course my Dad didn't let me use the saw by myself but we went into his woodshop and marked it up together. We took the stick down to an overall length of 32", that felt comfortable. We had a few fiddle sticks (tiny thin plastic shaft and flimsy shrunken head) lying around the house. I used them to play inside with a tennis ball occasionally and they were a great size. The problem with the fiddle stick was that it just couldn't handle a real lacrosse ball or a check of any kind - it would snap.
The regulation sized head on a shortened, regulation diameter, shaft was a game changer for me. It made stick handling more manageable and, quite frankly, it made lacrosse more FUN. By simply altering the stick to fit me I was able to compete with my brothers and learn the art of stick handling more efficiently. It was an important part of my growth as a player and something that I really believe helped me along the way.
We've had the Scout in our line since the beginning of this brand. Aimed at being the best "first stick" in the market, the Scout is completely hand strung and molded right here in Madison County. A $65 price point makes the Scout a great option for new players at the youth level looking for a hand strung pre pounded pocket that performs right out of the box.  Well…we may have just created a new category - we'd like you to meet our very first micro stick.
Introducing The Camper, a 32" complete micro stick featuring a locally molded,  regulation sized head, hand strung with limited edition skunk mesh. From a material stand point, everything about this complete mimics that of it's older brother, The Scout - high grade aluminum shaft and sturdy head construction. The Camper however has some standout features like its unique sidewall strut design, iconic shaft graphic and unique color combination. This stick, in every way, feels and acts like a regulation sized stick aside from it shortened over all length.
We set out to make this stick a launch pad for the young gun looking to play the game and learn the proper techniques necessary to become a stick wizard. It has the fun of the fiddle stick with the function of the high performance sticks.
Through my experience working in the industry designing and building sticks sometimes you aim for something and then another benefit shows up unexpectedly. That was the case with the Camper. When the first samples arrived and got strung up we couldn't put them down. Our office was suddenly turned into an ongoing game of mini lacrosse. They are just flat out fun! Because they are easy to play with one hand, you can hold a cup a coffee or take a phone call while you have a catch. That is when the name came to the forefront.
Because of it's size, the Camper is the perfect travel companion. Ready for the fireside catch in the woods or a battle on the beach. When the head is removed, it's 22" long, right on the money within TSA's acceptable length of a carry-on bag. Bring the game with you - wherever you go.
Grab a Camper now and unlock a new level of fun. SHOP NOW