Lake Placid: A Moveable Feast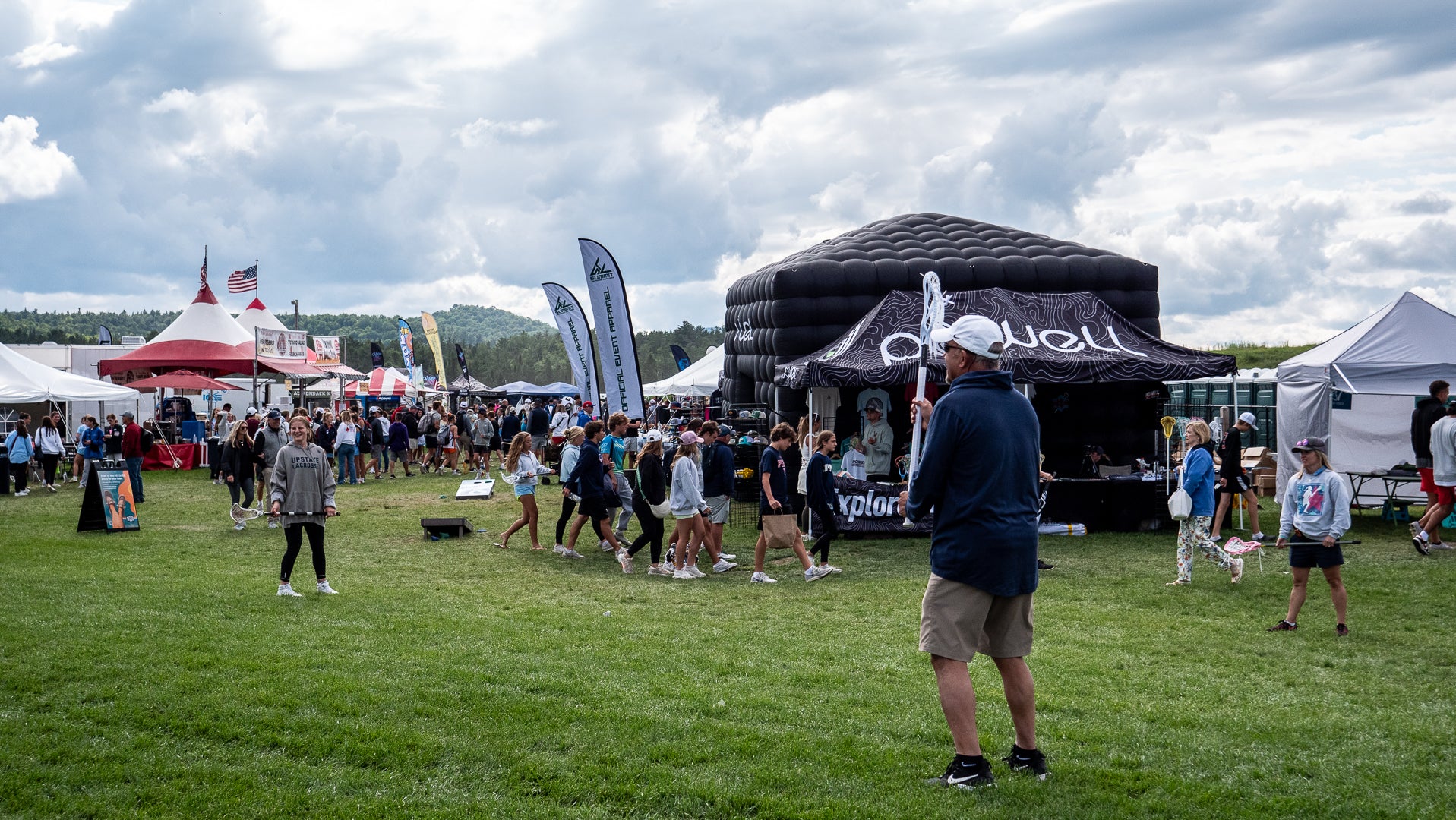 Through winding Adirondack roads you start to remember the curves and the views that make the long journey and the planning worth it. As you round a corner you see the sign you've been waiting for and a surge of excitement goes though you as you read "Welcome to Lake Placid." 
For 1 week every year, this special town becomes home to thousands of lacrosse players and coaches, friends, and families that come here to play in the tournament, come together as a community, soak in the scenic views, and celebrate the sport in such a unique way. This was my third year coming to Placid to work for Powell Lacrosse to capture some of the magic with my camera and also in this article. 
The writer Ernest Hemingway's last novel he wrote before he died is called A Moveable Feast that describes living in Paris in the 1920s and how that period of time was so important in his life as he developed as a writer and man. The food and drinks were more delicious, the city streets more vibrant, and the friendships deeper. When he moved away and traveled all over the world he would still think of Paris. Even though he wasn't there he could close his eyes and remember the smells and feelings he had there. Paris stayed with him wherever he went. 
The meaning of the title A Moveable Feast is:
"A memory or even a state of being that had become a part of you, a thing that you could have always with you, no matter where you went or how you lived forever after, that you could never lose. An experience first fixed in time and space or a condition like happiness or love could be afterward moved or carried with you wherever you went in space and time."
That's how I feel about Lake Placid. I'd like to think that all those who come back every year have a similar feeling. 
For the Powell Lacrosse team, this is always our biggest event of the year as we field several high school teams, set up our booth to sell products, and work to continue to grow as a company by interacting with as many people as we can. Placid is made up of our kind of people who love this game as much as we do. We're always so fortunate to create so many amazing relationships here that allow us to grow and for us to help so many others grow and thrive in lacrosse. 
Our Lake Placid adventure began Saturday morning on July 29th as we welcomed four teams of players to the Northwoods School for the Powell National Team training camp. Ryan Powell gave the kids a welcome speech telling them how lacrosse can take you to amazing places if you work hard at it and how playing in Lake Placid is one of his favorite lacrosse memories. They all now had the opportunity to create their own amazing ones that week. 
It's always a thrill when you return to the North Elba fields and are greeted by the Summit Lacrosse Ventures staff of George and Kevin Leveille, Ashley Gersuk, Blake Schierer, Eric Witmer, Casey Vock, and so many others that fuel this whole event with a huge sense of responsibility and gratitude. 
As the tournament began, it was also time for the Powell tent to spring to life including our inflatable dome. Not only did we have our full lineup of men's sticks and apparel, but it was time to release our long awaited women's stick: the Alula. What better place to do it then in Lake Placid. 
Dozens and dozens of girls came up to the booth to see the Alula for the first time. It was exciting as we got the sticks in the hands of girls of all ages and started our foray into the women's game. It was not yet available on our website so the stick was a Placid exclusive for the week. 
I'm so proud of our team that ran the tent all week and made sure every interaction with lacrosse friends new and old was a great one. Our Director of Events Michaela Fazio ran everything like a pro, Max Neiswender and Nate Vault strung up stick after stick, and our support crew of Julia Falge, Sydney Odell, and Brad Carr helped make everything run smoothly. 
In her first Placid experience, Michaela saw what makes the tournament different from others.
"It felt like the whole summer was leading up to these 7 days in the mountains, and Placid did not disappoint. Stunning Upstate NY landscapes and the sound of love for lacrosse echoed everywhere. One of the highlights for me was interacting with the seasoned tournament veterans. Hearing their lacrosse war stories and witnessing their awe of advancements in lacrosse technology, particularly for women, was truly special. It was remarkable to see some of the lacrosse legends from schools like Colgate and Syracuse trying out our new Alula stick, then deciding to purchase it for their own daughter." 
This was our best showing yet as a company in Placid to such a big lacrosse audience and we know that things are only going to get bigger and better from here. Thank you so much to everybody who stopped by the Powell tent during the week! 
It was exciting to watch more girls games this year where players were already using the Alula and playing really well with it. It was special to see Casey Powell coaching his daughter Bella on the Powell Lacrosse team and encouraging her from the sidelines. Later in the week Ryan would bring his three kids by the tent and Mike would bring his son and daughter. The Powell legacy has grown in a remarkable way from the times when Casey, Ryan, and Mike first played on these same fields. 
By the middle of the week all of a sudden you start to see less young players walking around in their equipment and instead see guys with gray hair and Bacharach bucket helmets making their way to the fields. The games may be slower for these legends, but the intensity and love for this sport are elevated to another level. This history here is incredible with some players that have been playing here for 34 years straight. 
On Thursday there was some intervention from Mother Nature as lightning, thunder, heavy rain, and even hail swept through the valley Thursday evening, which caused a lightning delay to be called. 
We were lucky to have the rain stop in time for the start of the Legends of Lake Placid ceremony. This is always a highlight of the week as the people who make Placid a special place are recognized and can share their stories. It's always emotional, but also filled with tons of great stories and laughs. Congrats to Bob Dicks, Brian Silcott, Dave White, Mike DeRossi, and Mike Infantino on induction as Lake Placid Legends! 
When the weekend comes around the game's brightest stars make their way to the fields to compete in the men's and women's open divisions. This is some of the best lacrosse you will see anywhere as top players from different colleges get to play with each other. In the close games between teams like Graph Tex, Dakota, Team Legends, and Piatelli Lacrosse, the players are going all out like it's the Final Four. They are so much fun to watch and they always draw a big crowd.
Walking around the fields I get to see so many old teammates and coaches and that is something that only happens in Lake Placid. I cherish every conversation and moment seeing so many people who have been a part of my lacrosse journey. 
Thanks to a late night conversation by the Roomers pool table with Syracuse alum Evan Molloy, I found myself suiting up for the Sailin' Shoe in the 25+ Men's Division. This was my first time ever actually playing a game in the Lake Placid tournament so I was excited even though I was exhausted from the past week.
Lining up for the first faceoff felt pretty surreal. The year before in Placid I had just torn my ACL for the third time and I had gotten news that it was looking like my Dad was going to be diagnosed with Bulbar ALS. I was in rough shape physically and emotionally, but still happy to be there watching games. My Dad passed away this past May and this year as I looked around at the views around the fields and the ski jumps before that first faceoff I wished he could have had the chance to see it all. 
I had gone back and forth about playing after this third knee surgery. Was it safe to go out on the field again? Should I just hang up the cleats? I brought my gear and wasn't sure what I wanted to do. But I had this feeling eating at me that I had to do it. 
Lacrosse is the medicine game and in a sacred place like Lake Placid you see it on every field in every goal, save, groundball, celebration, smile, handshake, and hug. I needed to do this to start healing from everything that had happened in the past year. 
And I'm so glad I did because I had forgotten how good it feels to win a clean faceoff out the front to start a fast break and then go back to the bench to get fist bumps from your teammates. Battling against some good faceoff guys and coming back to the Powell tent with bruises felt like I had earned another Placid stripe. Huge thanks to Evan, Paolo Ciferri, and the Sailin' Shoe boys for letting me run with them. I'm hoping to keep it going with the Shoe next year. 
The bittersweet last day on Sunday is always a tough one, but there is a relief that the week is coming to an end. You reflect on the great conversations, the moments when a young player has a spark in their eye when they get a new Powell stick, the cheers from a big goal that can be heard from far away, and the feeling that you're a part of this big lacrosse family. 
Everything gets packed up, you say your goodbyes, and you take one last look at the empty fields before you turn to leave. That knot in your chest as you drive out of town only makes the moment when you return so special. 
Throughout the year when things aren't going my way or times get tough I find myself thinking back to that moveable feast. To the place where every moment feels more beautiful. I try to manifest that feeling again and face every day with the same joy as Placid. 
I imagine myself sitting on the sideline with my camera after eating a breakfast sandwich and drinking a coffee while watching a great game with the ski jumps in the background. Catching up with an old teammate or coach in the vendor village. Sitting by Mirror Lake in the sunshine. Handshakes after a hard fought game. Walking around town alongside friends in the chilly night air to get to the restaurants and watering holes that lacrosse players have made memories in for decades. 
I close my eyes and I can see the stars in the night sky that always shine brighter in Lake Placid.