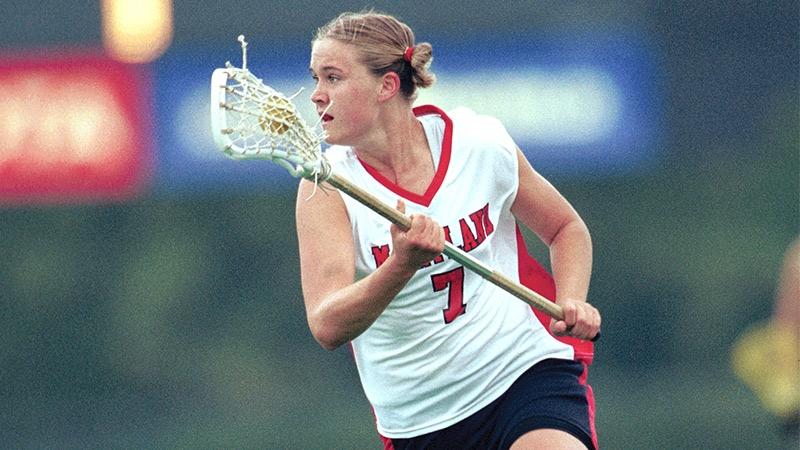 When I get the opportunity to go to a historic lacrosse field like the Carrier Dome at Syracuse University I see visions of the past playing out before me on the turf. I see the spot where #22 first launched the Air Gait and where another #22 front flipped 16 years later. Countless amazing players from different schools racing up and down the field. Innovating and changing the way the game is played. 
These moments are ingrained in my mind from hours spent watching games and highlight reels to create the Powell Lacrosse Legends series. 
We love our lacrosse history at Powell and an important part of our social media the past 3 years has been posting highlight videos of legendary lacrosse players that we felt deserved recognition. A Powell Lacrosse Legend is someone whose performance on the field transcended statistics. They saw and played the game with a spirit that is hard to explain in words. It's something you have to see to understand.  


You can watch all of our legends videos in our YouTube playlist at this link:
https://youtube.com/playlist?list=PL733r_cKAFz-chjDAC76YekUCuJhFIDKr
Early on in the Covid 19 Pandemic in 2020, Ryan and Casey Powell came up with the idea to start making tribute videos to lacrosse legends. They would be 1 minute long and show how much they impacted the game. We felt it was so important to put together highlights that could show these legends in action so that we could bring up old memories for those that played against them or were in the stands watching and educate the next generation of players on how skilled lacrosse players have always been.
Most of the moves and exciting plays college and pro players do today were created by legends like John Grant Sr., Frank Urso, Kevin Alexander, Gary Gait, and the Powell brothers. And they did it all with sticks that current players wouldn't even be able to throw with. 
I started to make one or two of these videos every week as Ryan and Casey fed me names of players that they had played with or watched growing up that were legend status. Many of the names I had heard before from references in Inside Lacrosse or on college and pro game broadcasts. You hear the names, but usually there's never any video of them shown. 
It doesn't matter if these players are associated with another lacrosse company or went to a rival school. We don't care. We want to honor the players who deserve it no matter what. 
When I started to dive deeper into the game's history it was like uncovering lost treasure. 
There I sat at my desk in my Buffalo, NY apartment spending days combing full lacrosse games and highlight clips searching for anything I could of these legends. It's been my honor to make 119 of these videos. Most of them took me 1 day to make, but several took 2. So around 150 days of my life were dedicated to honoring the best players the game has seen. When I get to meet some of these legends like Kevin Leveille, Charlie Lockwood, Tim Goettelmann, and Gary Gait and they say how much they enjoy the videos, it's a fulfilling moment and makes it all worth it. Like this is what I was meant to do. 
My journals are full of the notes I took for each video of where clips were in certain games labeled by if the play was a goal, assist, save, caused turnover, hit, or anything else that would show what made that legend special. 
Every time I start one of these I'm excited because I don't always know what I'm going to find. Some of the bigger names have had their highlights shown all over YouTube and over highlight reels, but some of the lesser known legends have highlights that haven't seen the light of day for years or even decades. 
The process starts with looking up the years that the legend played in college and seeing if there are games on YouTube available during that time. Then I look up their statistics in pro lacrosse and who they played for. If I'm lucky there will be a stretch of a few years where they played in games that are available somewhere to watch on the internet. The MLL has stats for every game since 2001 and the NLL has stats for every game since 2005. This allows me to match up certain games with the stat sheets and find goals to the minute that they happened in the game. 
I'm forever in debt to the people uploading old lacrosse games to YouTube, Vimeo, and Facebook. Oftentimes I'll look up something very specific like Loyola lacrosse 1999 and there will be a full game uploaded probably by someone who was a player on that team. Lax Sports Network also used to have a huge library of full MLL games, which is an incredible resource. When full games aren't available, I have to search through whatever highlight videos exist from the time and hope that there are a few seconds of a player who I only recognize from their jersey number and the team they were on in a specific season. 
I've learned how to scan through lacrosse games pretty quickly to see every play that a player made during the game. Especially on ESPN or old broadcasts the breaks in the play and how the replays are shown are always very similar. These legendary players have the ability to do something amazing at any moment so I have to be locked in and ready to mark down the play. 
Depending on the school or league they played in and the time period, some players had a handful of games to look through with many clips to feature. Others had barely enough to fill a minute, but I did my best to search every corner of the internet to give them the spotlight they deserve. When I'm watching a game and see an amazing play by that player, I get goosebumps because I know that I'll now have the chance to share it with the entire world. 
I can remember when it was time to make a video for Jason Coffman I didn't know what to expect. I had never seen a highlight of his even though he is the NCAA all-time points leader with 451. The only video that exists on the internet is one broadcast from the 1995 National Championship when Salisbury defeated Nazareth and then a few recordings that were recorded from the bleachers that are hard to see. From that small sample you can see the skill, the tenacity, and the will to win. He was a workhorse for the Salisbury offense and could make a play with behind the backs, wrap checks, crease dives, and he did it all so nonchalantly. Like he'd done it a thousand times before. Like the Powell brothers, J-Bird honed these skills in the backyard on Jefferson Street in West Carthage. 
We don't give any notice to the players that we'll be honoring them so that when they open their phone or check social media they get a big surprise from the video and messages. It's special to be able to celebrate these players and then see the reaction from the lacrosse community. 
My favorite part every time we post a legends video is the comments from people that played with or against them. Or when the player themselves responds and thanks us for bringing back the memories of a long forgotten lacrosse career. We want them to know we appreciate everything they did. Because the game is better for it. 
Once I got into my rhythm of making these videos, I started making one every Thursday. Most of them would take me a day to make from start to finish. I would give myself a hard cut off time of 7 pm that I had to post the video. After testing different times that seemed to be when they would get the most likes and interactions as people are relaxing after work and scrolling on their phones. I work best when there's a deadline so that rush of the clock ticking down always feeds my creativity and how a video is going to turn out. 
When I get on a roll of finding these good clips I get an adrenaline rush. It could also be the cups of coffee that I chug, but when I can feel that a video is going to be good I start buzzing with excitement. 
It's a challenge searching frame by frame of these games for any snippet of a jersey number, but some of the legends you can recognize from just their body language or how they carry the ball. The ones that stick out as ones that I remember loving to make are Jimmy Lewis, Kevin Finneran, Doug Knight, Jason Coffman, Cory Bomberry, Brian Langtry, John Grant Sr., Josh Sims, Brett Bucktooth, Steve Mitchell, and David Evans. It's the way they glide down the field, hold their stick a certain way, or wind up for a shot. It's their physicality and their energy that you can feel through a computer screen. I don't need to see a number to know that it's them. 
After making so many of these videos and honoring these great players, I've realized that my work is still very unfinished. Not only are there still more players to feature, I am missing an entire part of the sport. That is why I'm excited to start working on videos for women's lacrosse legends. 
I'm happy to introduce our first legend from the women's game: Jen Adams!
Without a doubt one of the best women's lacrosse players ever who would likely be on the Mount Rushmore of lacrosse for both the men's and women's games. With her signature pigtails blowing in the wind she struck fear into opposing teams. 
The Australian made her way to Maryland to play for the Terps where she would break seemingly every record in the book. She was a key player from the start helping the Terps win the 1998 National Championship, but it was in the next three years she would completely dominate college lacrosse. Three 100 plus point seasons and averaging 5 or more points a game all while leading Maryland to three for National Championships. After her college career, she would continue to make her mark as college coach and also starring for the Australian national team. 
3x National Player of the Year, 3x First Team All-American, 445 Career Points (267 goals and 178 assists in 86 games), the first Tewaaraton Trophy Winner in 2001, 4x National Champion, member of Australian National Team in 2001, 2005, 2009, 2013, and World Champion in 2005. 
When the ball was in her stick there was a good chance it would lead to a goal. Her quick and elusive dodging let her fly by defenders and her pinpoint shooting was unstoppable. Perhaps her greatest skill was finding ways to involve her teammates in the play as she fired passes through the defense and set up brilliant give and go's. She inspired a generation of young girls to dream big and her impact on the game is still felt today. Thank you for everything you've done to help grow the game #7. 
Powell Lacrosse salutes Jen Adams! 
Be on the lookout for more women's legends videos very soon. 
Now that I've made all these videos and learned so much about the players of the game's past, I almost get offended when people don't know them. I look at them and think to myself "you seriously don't know that Terry Riordan is the all-time leading scorer in Johns Hopkins history? Or that Mike Battista scored the first goal in MLL history?" But looking back to when all this started, I realize that I barely knew any of the players either. I've gotten a crash course on lacrosse history that I'm thankful for. 
Lacrosse in 2023 is so focused on the current stars of college, PLL, and NLL which I totally understand as we continue the efforts to grow the sport to a larger audience, but there is such a rich history that everyone seems to be ignoring. Pro lacrosse doesn't exist without the pioneers who played for $50 a game or less in the 70s, 80s, and 90s. The stars of the Hopkins, Maryland, Cornell, UNC, and Syracuse teams that captured the fans of the Northeast. 30,000 or more fans packing the stands. 
In those days, to watch these players you either had to be at the game, watch it live on TV, or somehow hope to find a recording of it. Today, college and pro lacrosse games are streamed and available to watch back anytime. Highlights are captured by 4K cameras on the sidelines and immediately posted to social media for the world to see instantly. 
There is less mystery and anticipation behind watching the best players play today. You can look up Tom Schreiber highlights on your phone and immediately watch dozens of clips and even games of him playing. And then you can sit on your couch and watch him play in the PLL or NLL on most weekends.
That's why there is still something special about making these legends videos. 
3 years ago if you typed in "Tim Soudan highlights" you probably wouldn't have found much to watch unless you wanted to watch a full UMass or Rochester Knighthawks game from when he played. I'm happy to have made the 1 minute video of some of his career highlights that people can now search and see what the Chrome Lacrosse Club Head Coach was like as a player. 
Lacrosse has a history unlike any other game. We must cherish this rich tradition that has led us to the current growth lacrosse is experiencing. We must never forget the legends of lacrosse.