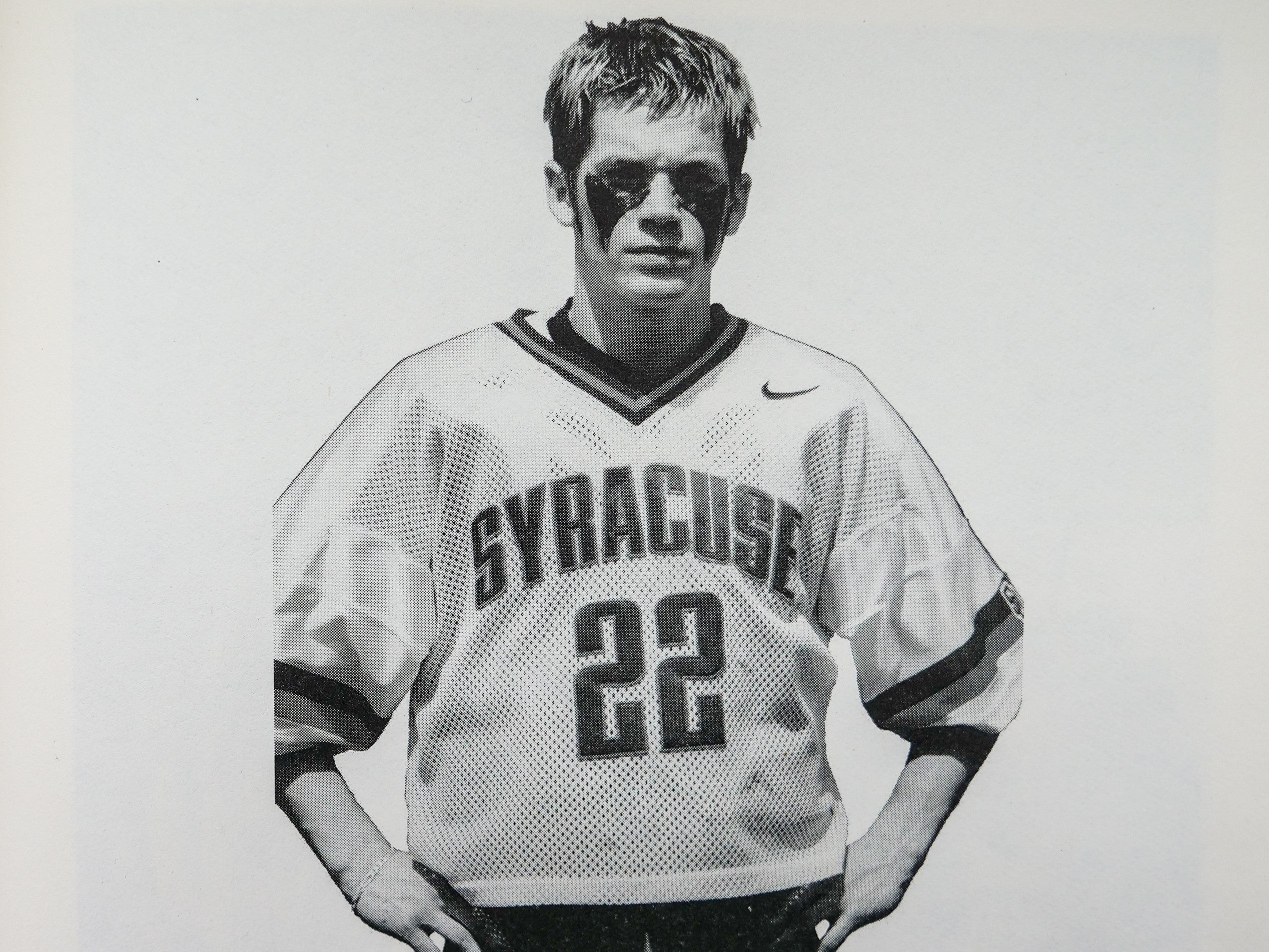 The first time I met Mike Powell in person was last May at one of his shows at Silo City in Buffalo, NY. I got there as the show started and he began playing with his band in front of an audience of people there to see him and others just there for a nice Friday night out. I got a drink and sat down in the back. 
The couple sitting next to me asked if I knew who was playing on the stage. "It's Mike Powell from Syracuse," I told them. They responded "Oh didn't he play lacrosse or something?" 
I never got to see Mike play lacrosse live, but watching him play his guitar and happily sing his songs I could see he's found peace on his new field. The picturesque sunset was a fitting background as he interacted with the audience and put on a great show for everyone there. I found myself thinking that playing in front of these 100 or so people was a long way from 44,000 on Memorial Day. 
The show ended and I went up to introduce myself and shake his hand. It was great to talk in person after exchanging many emails with him about various Powell Lacrosse projects. We chatted for a bit about writing before he headed back to Syracuse.  
Mike started working for Powell Lacrosse again in November and I've gotten the chance to work with him in the Powell office the past few months. I've learned how much of a jokester he is and seen the creativity and hard work he puts into every project. He's brought a new energy to everything we do with a real vision for what the Powell brand stands for. We listen to music and come up with projects that make us excited. Getting to know Mike has been a blast. 
But today on the day of his jersey retirement, I want to talk about Mikey. I want to talk about #22. 
The lacrosse renaissance came in the form of upside down triangle eye black, silky smooth dodging, front flips, riding like a madman, and playmaking like no one had ever seen.
Electricity filled every inch of the stadiums he dazzled in. Every eye in the lacrosse world was trained hard on #22 and he delivered two national championships. His style emulated by every player since then. 
To a 14 year old me, Mikey was the coolest person in the world. Not only the most dynamic lacrosse player ever, but also an artist. I would visit his old website mikeypowell.com and look through every picture and story over and over again. I wanted to make lacrosse videos like he made, I wanted to write like he did, and most importantly I wanted to play like he did. There was no one else like him in lacrosse or for that matter all of sports. 
Mikey made it okay for me to like lacrosse in a school where most people didn't know what the sport was. I could show his highlights to my friends and make them say "Wow this sport is awesome." He was a superhero in my mind and made me feel like picking up a lacrosse stick made me a part of this special community. I practiced the stick tricks and the moves trying to be like #22. He made it feel like it wasn't just a sport. It was something more. 
On every lacrosse website and in every lacrosse magazine you saw Casey, Ryan, and Mikey throughout the pages in videos, pictures, stories, and advertisements. Casey and Ryan had the swagger and the jaw dropping moves that make them Hall of Famers and some of the best to ever play. Mikey had something different. 
For me and so many others, it really wasn't about the goals or the championships. It was that this guy was having so much fun and coming up with something new every time he played. He showed me that to be a great lacrosse player you had to have an imagination. You had to be willing to take risks. 
He was given the green light to dodge and create. All eyes on him and he feeds it through 4 defenders. Finalizer at X and defender tripping on the net to come around the cage and dip and dunk. Getting slashed, hit in the head, and beat up by every defender in his way, but still getting up and ready for another round. 
Looking back at his Syracuse games you see it when he gets the ball. He's like a caged animal ready to explode. Pure energy pouring out of him as he flies by his defender. 
How does he make it look so easy? How is it so fluid and natural? Of course it's the backyard and learning from his brothers, but now that I've met him I can see what it is. He becomes obsessed with whatever he's doing and isn't satisfied until it's perfect. From 2001-2004 he put on the perfect show. 
The great ones see the game differently, but it's almost as if Mikey was looking through a kaleidoscope attached to the top of a cannon. Every game had the potential for something new and as he went along in his career the dodges became faster, the passes crisper, and the playmaking more cerebral. 
I've heard the stories of a young MP being the ball boy when Casey and Ryan played at Carthage and Syracuse. When the teams would go into the locker rooms at halftime, the crowd was still cheering as loud as ever. There was Mikey ever the performer pulling out his tricks and already putting on a show for the crowd. The desire to perform and make people happy has always been there. 
And we can't forget about the highlight tape. THE best individual highlight tape in lacrosse history. How many people searched lacrosse highlights on Google or YouTube and his highlights popped up? How many thousands of kids watched that and decided they wanted to play lacrosse? 
The key to it all is that Mikey thrived playing Syracuse lacrosse. A program that Roy Simmons Jr. nurtured. A system based around the team, but also around self expression. From his first game against Colgate in 2001 to his last against Navy, he played for his team, he played for the Orange community, he played for his family, he played with the hope to contribute to the history of the game in a positive way. 
The spirit in the stick and in lacrosse is real. I've seen it and felt it my entire lacrosse life. Its Indigenous roots are the foundation for a game that allows for more creativity and freedom than any other. Mike is as spirited a player the game has seen in its history. 
I can remember as the years went on you didn't see Mike involved with lacrosse as much. He didn't play anymore and stepped away from the game. This was for a good reason as he pursued music and started his family, but it felt like something was missing in the lacrosse world. The past few years working for Powell the questions were constant. When is Mike going to play again? Does Mike still care about lacrosse? 
He cares in his own way and he cares more than anyone I've ever met. 
He lived out his backyard dreams. They just happened to play out in front of thousands of fans in the Dome and on national broadcasts. Mike Powell embodies the heart and soul of lacrosse. He is everything that is exciting and special about the game. Anything is possible with a stick in his hand. 
Another part of his story will be written on Saturday with his #22 jersey finding its spot alongside Gary Gait's. Casey and Ryan's will surely join Mike's soon. As long as the Dome stands that jersey will be there overlooking the field that #22 put on his orchestra of excellence. 
I'm so grateful that I'll be able to be there for the ceremony and take pictures of the moment. I drive to the Powell office everyday and can't believe I get to create lacrosse content with Mike. My path was winding and unpredictable to get here, but whatever choices I made led me to Chittenango, NY. Fill your head with goals and dreams and some of them might come true. 
Mike, congratulations on another honor that you're surely uncomfortable receiving, but know that what you did with a lacrosse stick in the Dome gave hope to every small town kid that they could do the same. Thank you for being true to who you are no matter what people say you need to be. 
You showed me that dreams shouldn't be held back. They should burst out of our hearts for the world to see.