My Brother Mike, The Humble Superstar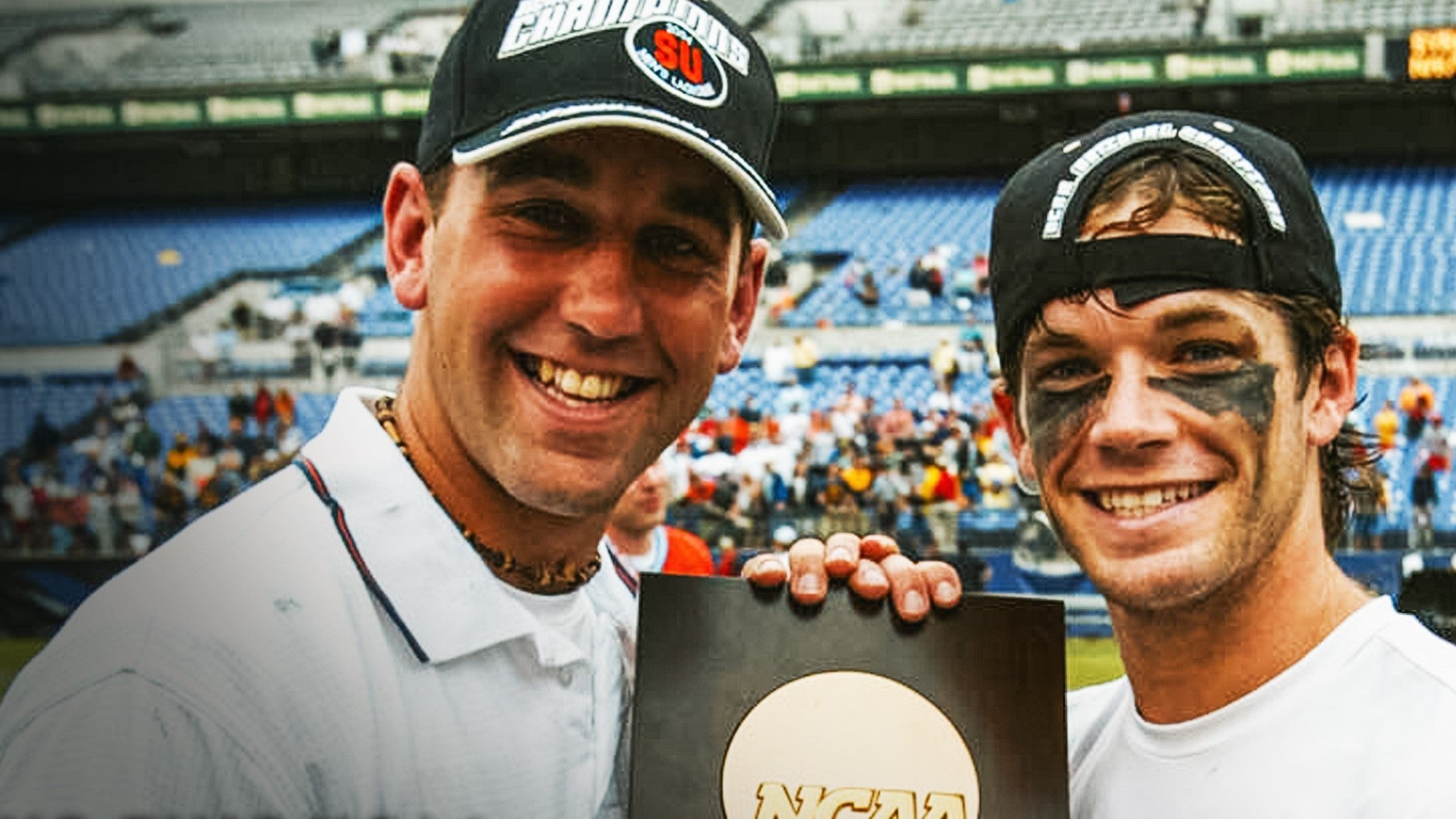 MP,
As I sit here in Chittenango, NY at our Powell Lacrosse HQ, I can't help but have uncontainable emotions while writing this. Thinking about your #22 jersey going into the rafters later today has placed a permanent smile on my face and filled my heart with joy.  It's truly an honor, but also incredibly deserved.  
The one thought that I continuously return to is how you achieved this recognition doing it your own way, the Powell way.  
Nowadays, coaches and kids talk about playing wall ball or getting out in the yard to focus on the fundamentals of the game.  I look back and try to think if there was ever a time that you said, "Let's go out in the yard to get reps so I can improve my sticks skills."  Instead, it was always, "Let's go out in the backyard and have some fun with this awesome sport." 
From being the first kids in our town to have lacrosse sticks to playing with our wands daily, you became a master of stick skills in true Mike Powell fashion.  You never needed any incentives or prompting to put the stick in your hands, it was always and has always been solely about FUN!  If the younger generation can learn one thing from you, I hope it's to focus on the fun of becoming a stick wizard as opposed to the chore of it.
I remember being on our home field in Carthage attempting to listen to Coach V's adjustments and motivational talks, but instead being distracted by the "OOO"s and "AHH"s of the crowd as our ball boy, who apparently doubled as in game entertainment, ripped behind the backs and displayed never before seen stick tricks. In case you forgot, you were the ball boy.  You would often get more applause from spectators at our games than the team itself. 
You were able to combine your stick work with your uncanny athletic ability, which secured your spot in the State Championship as a senior at Carthage. I would come home to watch you play and immediately be in awe of the undeniable buzz regarding your game play.  I was always so proud to brag about being your brother and your overall ability while at Syracuse.  The excitement from my younger teammates when they heard the news of MP signing and wearing the Orange is something I will never forget.  Granted, I couldn't blame them.  They were about to have the opportunity to play with the greatest high school lacrosse player in the country.
Championship Monday my senior season for the Cuse' is a day I will always look back on fondly, but for a different reason than you may think.  
While I was able to get the assist that tied Casey's point record, which you obviously later broke, and win the national championship, walking off the field and seeing you standing in the front row is my fondest memory.  You were waiting there to give your big bro some love and a hug as I took off the Cuse 22 jersey for the final time, officially handing it off to you.
Once in your possession, you not only embraced the jersey, but elevated it to greater heights. 
157 Assists
150 Goals
307 Points
4 First Team All-America awards
2 Tewaaraton awards 
2 National Championship
Game in and game out you took your backyard style of play and dazzled the dome. Behind the backs, between the legs, around the worlds, flips, ground balls, amazing rides and most importantly team wins. Always a team first guy. Always humble. Always having fun.
You are the most decorated and greatest college lacrosse player of all time. That is unquestioned and not a debate, simply a fact. You are front and center on the Mt. Rushmore of college lacrosse. 
As you moved on to pro lacrosse, you started to lose the attribute that made your game, your game – The fun.  Aware of the situation, you went searching for the next thing that would fulfill that space in your journey of life.  You picked up the guitar, focused on fun, and started rocking with a new type of wand.  Since then, you have filled venues with people that don't know squat about lacrosse, solely great music, undeniable storytelling, and good vibes. 
Your transition from lacrosse to music is, and always will be, so impressive and cool to me.  Lacrosse fans around the globe couldn't understand why such a talent would step away from playing the game at the highest level and devote their time to music.  Simple answer for these fans is that they didn't know you fully.  They were unaware of your desire to enjoy life in its many forms, regardless of how that may be.  
While you had a short-lived professional career, I have to boast about your accolades once more. Multiple Team USA appearances, All-Pro awards, Championships, endorsements, and a reputation as one of the very best players in the world.
Mike – I cannot help but reflect on the person you have become and feel so lucky to call you my brother, but most importantly my friend.  You are an amazing husband to Nicole and father to Townes and Keny, one of the many reasons you inspire me daily.  While you might not be sticking behind the back shots anymore, you are still managing to find fun everywhere you go.  More than any award, including your #22 being raised to the rafters today, I am the proudest to simply be your older brother.
From 2001-2004 you "flipped" the college lacrosse world on its head and this honor you are receiving today is a nod to that. Throughout my journey in the game of lacrosse, meeting a plethora of players along the way, you are the most humble I've ever come across and it's not even close. Way to go dude! Way to go MP!
Love you so very much MP22!
Your bro,
RP