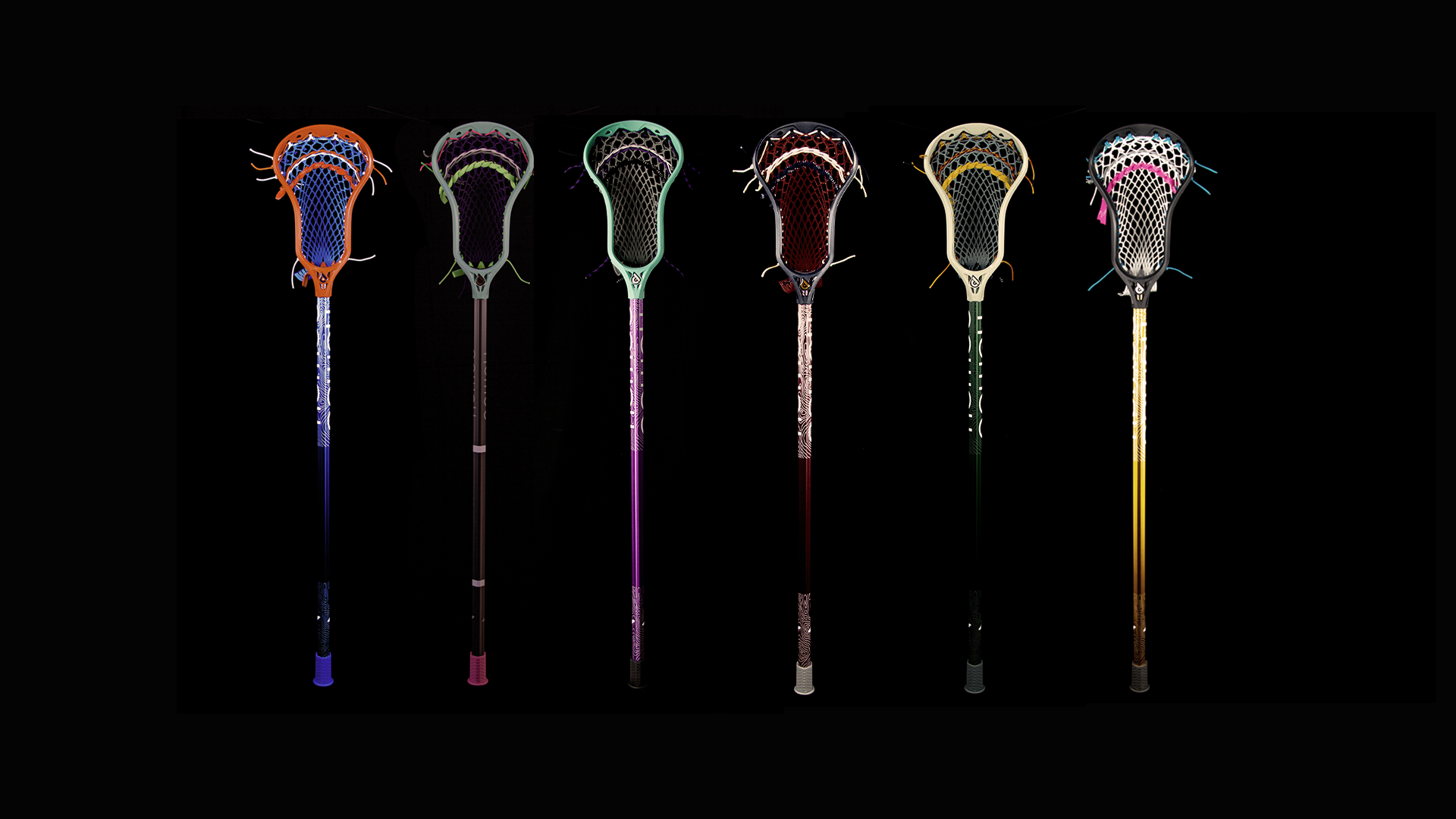 Here's a question for all you old-time lacrosse junkies out there…
Who remembers the Golden Hi-Wall? Somewhere in the neighborhood of the late 80's or early 90's STX released a limited edition complete stick - available only in one unique color configuration - they called it the Golden Hi-Wall. It was a play on their widely popular stick of the day, the Laser Hi-Wall. Huge chunky sidewalls, massive foam ball stop and extra wide face shape. It basically looked like a slight upgrade from a gym class stick, but lots of great players used it and had great success. Jason Coffman, the leading scorer in NCAA history, was a big Hi-Wall fan and used one his entire career. The Hi-Wall head only fit on the Hi-Wall shaft so it made customization nearly impossible. Despite its lack in style, the Golden Hi-Wall concept was very cool at the time and actually was an inspiration behind our new class of completes - The Select Six. 
The Golden Hi-Wall was, at its core, essentially the same product as the Laser Hi-Wall with just a more stylized approach. It had a black shaft, a black head and was strung traditionally with black leathers. Where it really made a statement was in the nylon work, featuring neon green and pink strings. Up until that point it was very rare to see sticks with colors that weren't primary and "team" oriented. I know it sounds ridiculous now because in today's industry players have access to almost an infinite amount of customization. But at that time, the plastic head industry was extremely small and young so something as simple as changing colors was cool and considered an innovative strategy. We loved it because it celebrated the stick, the expression, the design, the color and the style. 
Our Select Six concept aims to celebrate those same virtues only with a more modern and handmade approach. Our Select Six will operate as a seasonal rotator with available inventory until the stick moves into the archives to make room for the next class of completes. Our first fleet pulls from our existing product line and presents an eclectic pairing.  
Let's meet the fleet… 
The Juice is definitely worth the squeeze. Hand strung right in Chittenango by our string team leader Max, the Juice is treated in house so the pocket will arrive ready to play immediately as most of the break in time has already been taken care of. We obviously have love for SU around here at Powell HQ. The vintage blue and orange tones give this set up a very nostalgic feel in a fast and modernized package. Over the years, SU has changed its colors slightly and this stick feels much closer to the old school color palette - brighter and bolder. Something you will notice is the Switchback '23 has been reversed and the head placed on the other side. We designed the graphic to work both ways and we are calling this a true "Switchedback" set up. Learn More about the Switchback '23
The Coltrane is a player and was actually the first build we came up with for this series. The unique purple and black paracord against our new mint colored head gave us that vintage jazz feeling. Like the Golden Hi-Wall we've mentioned, this setup is not your traditional color way - it's loud and at the same time clean. Slate grey mesh piece once again hand strung in house with a black shooter and paired with a purple "Switchedback" setup. 
The Wonka is sweet. Some bright pops in the stringing with a charcoal Pioneer II Transition and paired with the gold Switchedback '23. We think that when you combine an in-your-face powerful color pop with a clean + classic white mesh - it creates a setup that might just be the golden ticket. 
The Homelander is an elegant and luxurious take on the American theme. It features a navy head, jeweled and ball stopped in gold, on a red Switchedback '23. The hand strung pocket has gold highlights and utilizes two different gold patterned nylons that makes this complete feel like a real deal scoring machine. 
The Terra Trip is earthy and rooted in a color pattern that takes you on a journey through the forest. Blaze orange sidewalls with matching top strings lead the way inside this all new Sand colored Pioneer II Transition. This stick just feels and looks good in the hand, very uniform, very complete. It wasn't until we threw the retro yellow shooter in when we finally said, "There it is!" 
The Candyman is our only complete in the fleet that features the new Ranger 7v3. We started with the head colors on this build. The new Mint head just looks so good with a variety of colors we figured why not have some fun with this combo. After we had the head built we figured why not pair it with the classic gun metal grey of the Ranger. Bang! Who can tear up a field? The Candyman can.
Take a look around, do some web surfing and get a closer look at this group. The next class is already in the stable ready to release next month. These are simply some of our favorite set ups, but like always, we encourage you to express yourself and get the set up that is absolutely perfect for you and your game. If nothing else, use these sticks as inspiration, visit our customizer and let your imagination run wild.