The 2023 Great Upstate Snow Game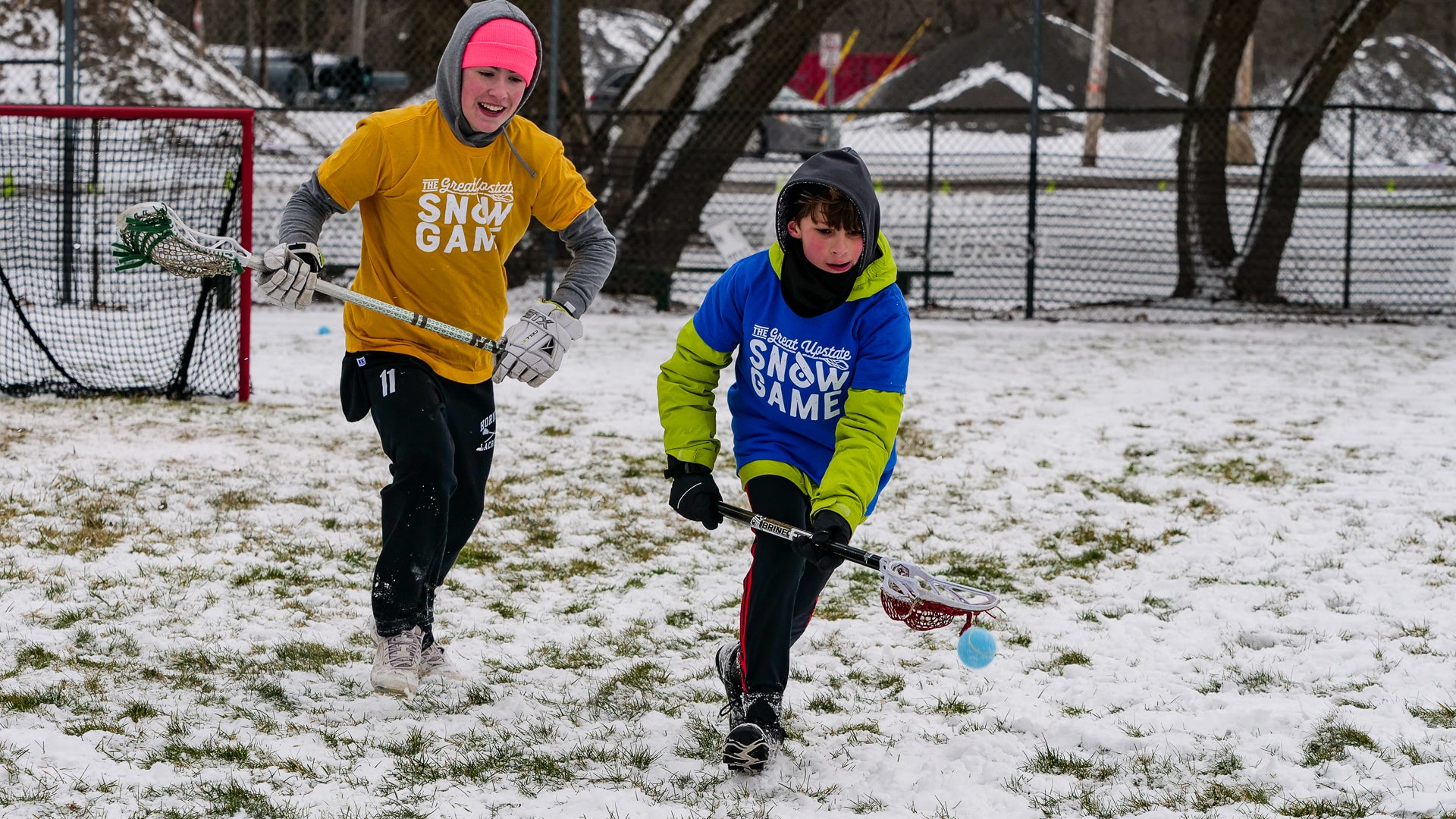 Snow flies up into the crisp Upstate air as two players dive for a ground ball. A 6th grader scores a smooth backhand goal and does a backflip to celebrate. 1st graders charge toward the net stumbling in the snow as they take a shot. 
There's a special magic in the air when the Snow Game comes to town. 
This past weekend was the 8th year that Powell Lacrosse has put on a Snow Game. The first two were put together by Ryan Powell to play with two teams of friends. Since 2018, Powell has run a bigger event for 1st to 8th grade boys and girls teams to play in this 3v3 snow lacrosse experience. 68 teams made their way to Stooks Park in Chittenango to enjoy this celebration of Upstate lacrosse. 
This was our first event that we've ever run in Chittenango where our new office is located. Our usual location in Manlius had an ice rink put in the park so we had to act fast to make the change. It worked out to be much easier to move nets, signs, and all of the extra equipment across the street instead of driving it across town. Stooks Park actually gave us a lot more room for fields and space for parents to watch their kids from the sidelines. 
The first Snow Game I went to was in 2020 and I was blown away by how excited the kids were to play in the snow. Every year it's one of my favorite events as the smiles on the kids and the parents' faces are constant throughout the day.
We were lucky to get some snow during the week to cover the fields, but the day before the temperature was in the negatives and the wind was howling. On Saturday, my fingers were completely numb by the time we ziptied our last signs to the park fences. As teams started filing into the park on Sunday, the 30 degree weather was just right for a day of snow lacrosse. 
The event always starts with a quick history lesson for the players from Ryan Powell. He talks about how he and his brothers used to go outside in the snow to play in their backyard. Years later he brought back that idea and started the Snow Game as a fun way for kids to get outside with lacrosse season still a month or so away. 
Ryan always asks if anyone has played in the Snow Game before and usually about 70% of the kids have. It's become a tradition for the kids and their families. There are always teams that wear team beanies or have a theme like several of the girls teams wearing pink tutus. 
Ryan and a few of the Christian Brothers Academy players demonstrate how to play 3v3 Speed Lacrosse with one player in net and two on defense as the other team has 3 players on offense. It's an up and down version of the game that maximizes reps and creativity. The teams then get to their fields and play a quick game of rock paper scissors to decide who gets the ball first. The winning team picks up the ball and the games begin! 
The music is bumping and the vibes high as I make my way around the fields. The kids see me come up with my camera and start pulling out all the tricks and celebrations to try and get on the highlight reel. It makes my job so much easier when they're out there having a blast.
No scores are kept, there are no creases, and the field marshals only call out of bounds and make sure no one is slashing or hitting. We use a tennis ball for the Snow Game so players that step in and play goalie can make saves without getting hurt. At first some kids are hesitant, but as the game goes on they become fearless. The players can play freely and try trick shots or plays they normally wouldn't in a game. 
Another really cool part of the Snow Games is the opportunity for the girls to play without the rules and a lot of the stop and go that there can be in regular girls lacrosse games. Here they don't have to worry about shooting space. They can bull dodge, crease dive, and oftentimes they get more physical battling for the ball in the snow than the boys do. The older girls are always really skilled as they are sniping corners, throwing behind the backs, and cheering each other on. 
Maybe there's a player who usually plays goalie who now gets to run up and down to score some goals. Or maybe an attackman plays some goalie and earns a new respect for what their teammate faces down with a real ball. After every game I saw tons of fist bumps and handshakes between teams. Some even plop down for a celebratory snow angel. 
There always seems to be a team of 8/7th grade boys who decide to take their shirts off and show what it means to be Upstate Tough. This year they even decided to climb on eachothers shoulders and try to play. 
Being there and seeing 10 fields full of excited players of all ages puts a smile on my face. The constant criticism of pro lacrosse, college rule changes, and club team politics disappear. At the Snow Game the only thing the players are worried about is that they wish they could play longer. 
I can remember snowy days in elementary school when I went into my backyard to play wall ball and shoot on my snow covered net. Trying on the run shots wearing my winter boots and counting down the days until the Spring season. The snowy practices in high school and college were always a challenge when your coaches were trying to put in plays to get ready for games. I would have loved to have the chance to play in the Snow Games when I was younger, but I feel lucky to now be able to help provide that experience for the kids that play in it. 
We're proud to host this unique event every year and we hope we can branch out to different locations next winter to give more kids the opportunity to play snow lacrosse. We hope the pictures and highlights encourage lacrosse players all over the world to go outside in the snow and have some fun. 
The Snow Game reveals the same thing every February. We love this game in any weather.