Knot Your Average Entrance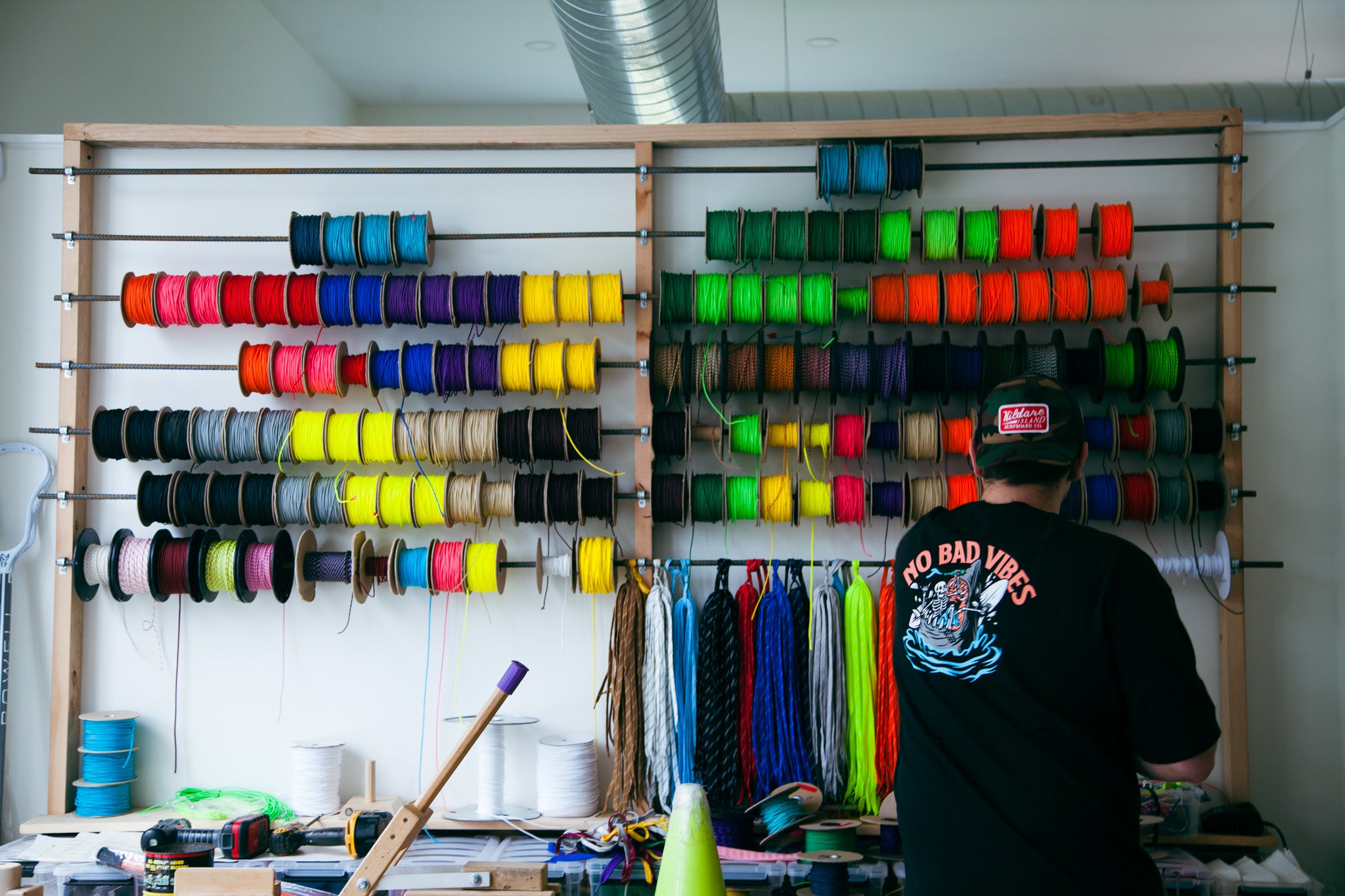 It's very common for a young person to be swept up into the beauty and fun of playing lacrosse. From there, after a season or two, many new players will take the next step and learn how to string their own sticks. Most times this happens because they want to alter their stick to perform more to their liking and style or because they were forced to because a string broke. We've been around the game for a long time and we've never heard of a situation where that chain events was reversed.
On June 6, 2020 a box of unstrung heads arrived on the doorstep of a home in the small town of Mullica Hill, New Jersey. A young college student with a burning passion for the craft of stringing took the box into his room and one by one poured his heart and soul into creating the best pockets he could. Every knot cinched and secured with precision, every string clipped and tipped perfectly to size.
The box arrived back at Powell Headquarters just a few days later.  The heads were meticulously placed into the box and each one we pulled out was mint. There are small nuanced methods and techniques that separate the good sticks from the great ones. Many of these details would be easily dismissed and overlooked by the average person but to the serious lacrosse player they are important and in many ways necessary. Every head we inspected was identical and it was obvious that attention to detail was a skill that this young man possessed. You could feel his passion in each of his sticks.
On a summer day in 2014, Max Neiswender was a twelve year old kid scouring YouTube when he landed on our buddy Joe's Throne of String page. Throne of String was a mesh and stringing company based in Brooklyn that shook up the lacrosse world in the best way possible bringing new ideas and a style to the game that had never been seen before. That entire summer Max consumed every video, watching them repeatedly, especially the tutorial pieces.
Christmas morning of that year Max received a Dick's Sporting Goods gift card and he knew immediately what he was going to use it on. He asked for a ride to Dick's where he scooped up a beginner stick - his first stick. He didn't get the stick to play with it, he bought the stick so he could inspect it, reverse engineer it and eventually build his first pocket. After this, the next step was getting a better head, one from the videos in particular, so that he could try following a pattern perfectly.
He got a ride this time to Play-It-Again sports and bought a Warrior Swarm head and some hard mesh because that's all he could afford with his grass cutting money. After that he asked his Dad to take him to Michael's so he could buy some dye and other miscellaneous materials for the project. He ran into the house full of excitement. He asked his Mom to heat a pot of water on the stove and just like that his very first stick build was underway.  The amazing part of this story is that at this point in time Max had never seen a lacrosse game, didn't know the rules and didn't own a lick of equipment. He was just fascinated with the art of stringing, stick building and customization.
His passion for all things lacrosse continued to grow and finally led him to the US Lacrosse Convention, a place where Max would be introduced and welcomed into a tight knit community of people just like him that shared the same energy around stick building. He was able to meet and speak with all of the folks from Throne and thank them for the inspiration. Max left the convention with a fire lit, stoked and raging. Now, he had to play!
Max started practicing catching and throwing and eventually became an offensive player for his school. Max took a particular liking to the indoor game, box lacrosse. He liked the tight game and the physicality of it all. On every team that he has played on he has become the go to guy for guys that need stick alterations.
After we received that box of heads he strung we were sold and wanted to learn more about Max and his plans for the future. We knew that we were building a company around providing hand strung top quality lacrosse sticks that could be pulled out the box and played with immediately. For years we had worked with some of the best stringers in the world to pull this off but as our company grew the need for someone stringing in house became more evident.
Ryan asked Max if he could work the summer and be one of our on site event stringers. Event after event Max delivered and proved that not only could he string but he was extremely fun to be around. Eventually he was offered a full time position at Powell. Max uprooted and moved to Manlius, NY and became our lead stick stringer and in house pocket engineer.
Max is more than a stringer around here. Yes, of course he makes sure that every stick that leaves our headquarters is totally dialed in but he's also critical to the internal vibe of the Powell brand. He is in many ways a glue around here because of his optimism, work ethic, dedication to the craft.
With the release of the Jamflowman, a tribute complete stick dedicated to another Jersey native, reggae artist Mihali we felt like this was the appropriate time for you all to meet the man tying your knots and tipping your strings. Every Jamflowman complete, every custom and every select six is laced up personally by the young kid from Mullica Hill. He puts everything he's got into every stick that leaves his work bench, if you pick up a Max Neiswender stick you'll know exactly what I'm talking about.