Oh Baby! Comets Got A Game Today!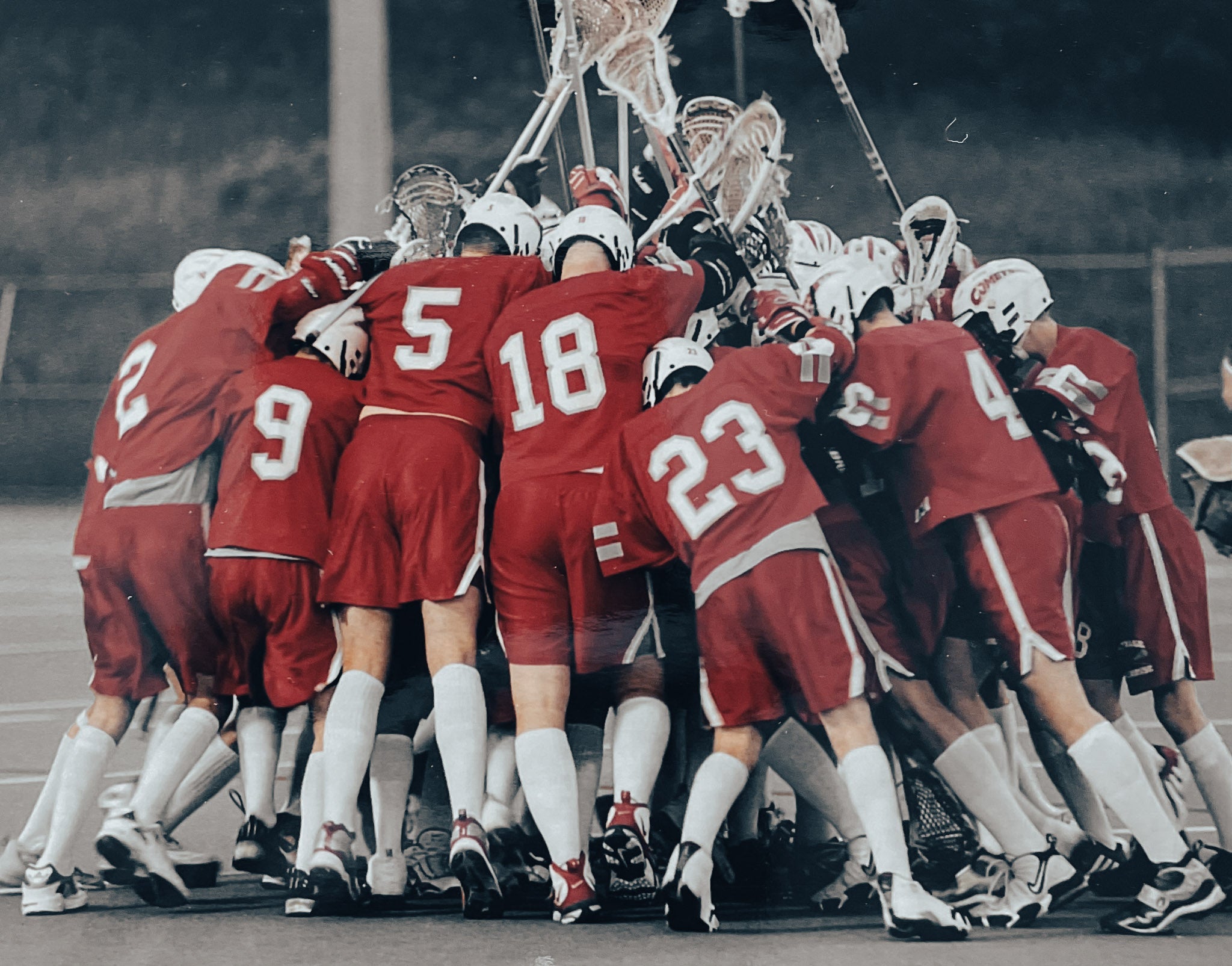 This weekend Syracuse University will lift my jersey into the rafters of the most iconic college lacrosse venue in the world. 
While it's certainly an incredible honor and one that I'm extremely grateful for, I'm also dealing with some mixed emotions about the whole situation to be honest. These feelings mostly stem from the idea that I've never viewed the jersey as mine at all - it's always been "ours." I played for what that jersey said on the front, I played for what it meant to wear those colors…in that building…in front of that community.
Let me start by saying, lacrosse is a team game and therefore honoring an individual has always struck me as very odd. I remember the terribly awkward feeling of attending the fancy banquets back in those days for things like Player of the Year and the Tewaaraton Trophy. I used to dread attending those events and would have to get talked into going. I always felt like a fish out of water because my team wasn't there with me and without them I was nothing.
I have made the decision that instead of being weird and running from the spotlight, like my gut always tells me to do, I will use this amazing honor as an opportunity to shift the light onto the important people in my life that were instrumental along the way. I want to put the focus on the beacons that got me on track and kept me there. The people that saw something in me and had the patience to deal with my unique approach to life and athletics.  
I'm also writing this batch of articles because I think it's important for all of us to take a step back, look at where we are in our respective lives and be thankful for those people that made us who we are. I'm hoping that through this exercise it will force you to think of those people in your life who have been sources of inspiration. Hopefully it will wake you up to your importance in the life of others around you. Your actions could change a person's life today. 
I want to prove that Saturday's jersey retirement is not an individual honor whatsoever, but instead a celebration of a community, a family, a tradition and a team. So for my first installment here I am going to start at the beginning of my lacrosse experience. 
In terms of the genesis of my athletic journey, there is no one that should be credited more than my first coach Kirk Ventiquattro. Coach V brought lacrosse to our little town and in a span of 20 years put Carthage on the map through his relentless commitment to his players, the build of his tight knit program and the implementation of a system that would prove successful in producing some of the greatest lacrosse players ever.
Coach V was a PE teacher that studied at Cortland State. It was there that he first saw the game of lacrosse and the idea started rolling around his head. He brought lacrosse sticks into our school system in the mid 80's and saw the interest that his gym class students had in learning more about the game. He had a vision, a real game plan, on how to build a powerhouse program that could rival the best in the world. This was ambitious considering the size of Carthage compared to the private schools and big local programs like West Gennesee. But what we did have was a drive, a small town chip on our shoulder and work ethic.
His approach was methodical with a strong emphasis on the details. He was authoritative and created this culture where everyone respected him. We all bought into the brand of lacrosse he was presenting. His philosophy was simple and he had a real gift for inspiring his players. His unmatched intensity and drive for perfection pushed all of us to become the best we could be.
His pregame speeches were some of the most thoughtful and powerful moments in my entire athletic career. 
To help set the stage, Coach V was absolutely ripped, especially back in those days. He was built like a brick and fitness was a huge part of his regiment. So physically - he was intimidating and I always knew that if we had a bench clearing brawl at any point we'd be alright. He would storm into the locker room like a junkyard dog, sweating and spitting, pacing around the room with a glare that could cut glass. He was like this EVERY game. He never phoned it in and therefore we never did either. He made a Monday afternoon Frontier League game feel like the Super Bowl.
That was the first big lesson that I picked up from him and one that I carry with me to this day. Every moment is important. Every choice matters. Everyday is an opportunity to get better. To see a grown man CARE so much about something made a lasting impression on me. From the way to dress to the way you present yourself - it all matters. Go with your full heart.
"Oh Baby! Comets got a game today!" That is Coach V's famous tagline.  He would say this ALL the time. Actually, just typing that out just now brought me back and gets me excited! He instilled a passion to compete that filled us all with a real excitement around the sport that we hadn't experienced anywhere else in any form. 
It's very important to note that he never played the game of lacrosse at all and had a limited knowledge of the finer points of the game - especially in the very beginning. But what he lacked in knowledge he made up for in confidence, passion and work ethic. He was never afraid to play against the best, we would play against anyone, anywhere. We would take some lumps in those first few years, but that was the point.
That was the second valuable lesson I learned from him. Never let the fear of losing get in the way of something you're passionate about. So many of us go through our lives with a passion that we fail to pursue because we're afraid of not succeeding - that's a real shame. If losing is what you focus on you've already lost. You never even had a chance.  
In the very beginning days he would bus us down to play against the best teams in Syracuse and we would get crushed.  The city teams coined us with a nickname - "The Hicks With Sticks." 
We were just a bunch of small town farm kids running around playing a new game as hard as we could. Instead of taking offense to that new nickname Coach V embraced it - big time. The next season we had new tee shirts that said, "Hicks With Sticks" and the first song on our warm up tape was WWF wrestler Hillbilly Jim's theme song "Don't Go Messing With A Country Boy." He gave us ammunition, he planted a seed that people were against us and we had something to prove. We had the opportunity to shock the world.
Another powerful thing that Coach V gave me was structure. I was a wild child. I wasn't disruptive or disrespectful at all - I just liked to do things my way. That's the artist in me I guess, but he taught me, through his system, that in order to be great at this game you need to be a great teammate first. I was sent home from my first varsity practice because I wore a pair of blue and orange arm guards. Our team colors were black/red/grey.  We were not allowed to wear any colors other than those three when we played for him. I remember being really upset about this, but obviously looking back at it he was teaching me an important lesson and it ultimately made me a better player.  
The goal isn't to stand out as an individual, it's to express yourself within a system that uplifts the entire group collectively.  Allowing your style to be shaped by a system isn't a bad thing - guardrails are important to staying on the road.
I could go on and on with lessons I have learned from Coach Ventiquattro. He was and continues to be a positive force in my life and I thank you coach for being such a wonderful role model. For those of you coaches, parents and educators out there - remember that kids are always watching and learning.  Let your actions speak volumes and uplift all of those around you. Every moment is important and every kid matters.
As long as I've known Coach V he has exclusively worn clothes that fall into the Carthage color palette. His number one outfit on game days was red sneakers, black pants, a red windbreaker and a Carthage black game hat. His last name, Ventiquattro, translates to 24. I figured it might be fun to put together 24 complete sticks themed to represent this special man's effort to make our community a better place and show the kids he worked with that ANYTHING is possible. Introducing the "Comet Complete."
I'll never forget the time he told his son Tony and I to hang off the sides of a barbell in the school weight room.  The bar already had stacks of 45's on each side and yet he cranked out a set of 10 with us dangling off each side. In that moment I was convinced that he was the strongest man in the world. I told everyone I knew that he was the strongest man in the world. Over the past few years I've watched him fight prostate cancer with the same intensity, focus and grace that he brought into the locker room EVERY game. Everyday is a chance to get better. The strength that he has displayed since his diagnosis proves that, in my eyes, he IS in fact the strongest man in the world - I was right.
Thank you Coach V. Please know that when that #22 jersey is on its way up to its permanent home in the dome on Saturday, I will be thinking of you, the passion you put into your job and the entire Carthage community. Those first years of playing for you changed my life for the better and I thank you for bringing the game to us. It was an absolute honor and privilege to play for you.
A portion of the proceeds from the "Comet Complete" will go to the American Cancer Society to help fund cancer research.